Welcome to the website of GADOC, the Guernsey Amateur Dramatic and Operatic Club.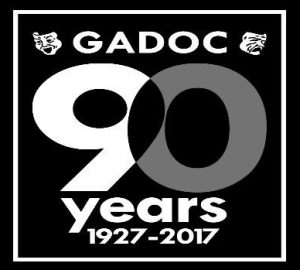 Since 1927 GADOC has been leading the way in local theatre. During the last 90 years we have produced over 350 plays, musicals and pantomimes. Although an amateur club, the depth of talent that we have as members enables us to bring professional standard productions to the Guernsey stage. Our aim is to bring diverse theatrical experiences to our audiences, from Shakespeare to Ayckbourn, Rogers and Hammerstein to Jason Robert Brown, we will continue to give you old favourites along with recent West End shows as well as, of course, our annual pantomime.

Our Next Production:-
Very few single seats left for this production available at all normal ticket venues and by telephone 747280 or on-line at www.guernseytickets.gg
When Alice sees a snappily dressed white rabbit holding a pocket watch, she knows today is not going to be like any other – an adventure is beginning! Follow Alice, her sister Lorinda and her mother Flora Dora, the pantomime Dame, down the rabbit hole and tumble into Wonderland – a place where everyone and everything seems to be stark raving mad and things keep getting 'curiouser and curiouser'.
There are drinks to make you shrink smaller and cakes which make you grow taller. You'll meet a mad March Hare and a sleepy Dormouse, see a cat disappear, talk to a caterpillar, and that's just the animals! You will join the zany Mad Hatter at his tea party and meet the other residents of Wonderland. Will Alice ever get to play croquet or will it be 'Off with her head!' at the Queen of Hearts' command?
Alice's Adventures in Wonderland has been the best loved of all children's stories for over 150 years. This December GADOC will bring Lewis Carroll's classic to life at Beau Sejour in a magical pantomime especially for your Christmas family entertainment.