Welcome to the website of GADOC, the Guernsey Amateur Dramatic and Operatic Club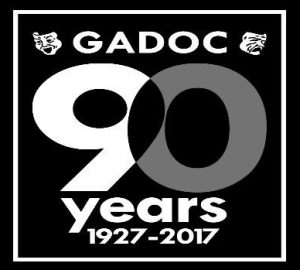 Since 1927 GADOC has been leading the way in local theatre. During the last 90 years we have produced over 350 plays, musicals and pantomimes. Although an amateur club, the depth of talent that we have as members enables us to bring professional standard productions to the Guernsey stage. Our aim is to bring diverse theatrical experiences to our audiences, from Shakespeare to Ayckbourn, Rogers and Hammerstein to Jason Robert Brown, we will continue to give you old favourites along with recent West End shows as well as, of course, our annual pantomime.

Our Next Production:-
WELCOME BACK TO LIVE THEATRE!
During April, when lockdown was well and truly in force Sir Richard Collas (Bailiff at the time) approached GADOC with the idea of staging a celebratory event as soon as possible after the restrictions had eased.  GADOC immediately embraced the idea and to cut a long story short, after a few Zoom meetings we pulled together the framework for a fantastic 'Guernsey' celebratory production, including ideas for numbers, participants, rehearsal schedules, budgets – amazing what you can achieve via the wonders of modern technology!  However, the one thing we didn't know was when – but we do now!
As the idea developed, we wanted to focus on the spirit of 'Guernsey Together' and to invite performers other than GADOC to participate.  At the time of writing we are delighted that Guernsey Glee Singers, Rickey Long, Mariposa Strings and the Glenn Miller Sound of the  Elastic Band are confirmed, with Dennis Burns and Michael Prince taking us through the evening's entertainment.
The main purpose of the production is threefold: to enjoy an evening to celebrate how Guernsey has pulled together; to thank those who have worked so hard; and to support some local charities whose work has been particularly important over the last few months, not only by raising much-needed funds for them but also by raising awareness of the challenging issues faced by many islanders and of the support that is available when needed.  Thanks to the generous support of the Polygon Collective, all the production costs have been sponsored so all proceeds from ticket sales and on the night will be shared between three deserving charities: Safer, The Samaritans and In-dependence.
GADOC will be featuring songs from some of your favourite musicals, and this will also be a chance to see the Annie orphans onstage for the first time (Annie will now be staged next Easter).
When:           13th, 14th and 15th August
Time:             7.30pm
Where:          Beau Sejour Theatre
Ticket Price: £10
On sale:         Friday 10th July, 9.00am
Director Lisa Johnston said "This promises to be a very special event with top class entertainment.  It's been a crazy few weeks pulling it together, and the cast and team have been working so hard to make the event a success.  Also, we have been very pleased to receive the endorsement from Dr Nicola Brink to stage such an event in August, and we are all looking forward to once again doing what we all love – entertaining Guernsey!"