Welcome to the website of GADOC, the Guernsey Amateur Dramatic and Operatic Club.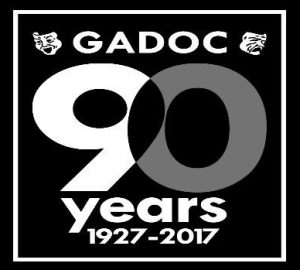 Since 1927 GADOC has been leading the way in local theatre. During the last 90 years we have produced over 350 plays, musicals and pantomimes. Although an amateur club, the depth of talent that we have as members enables us to bring professional standard productions to the Guernsey stage. Our aim is to bring diverse theatrical experiences to our audiences, from Shakespeare to Ayckbourn, Rogers and Hammerstein to Jason Robert Brown, we will continue to give you old favourites along with recent West End shows as well as, of course, our annual pantomime.

Our Next Production:-

A list of this year's plays can be found on the 'Coming Up' page
Tickets will be on sale Friday 4th May 2018. Ticket prices are £8.00 per night or a season ticket for the three nights at £21. Season tickets can only be booked in person at either Beau Sejour, Tourist Information, Candie Museum or Princess Royal Centre for Performing Arts.