Welcome to the website of GADOC, the Guernsey Amateur Dramatic and Operatic Club.
We have just brought the curtain down on Jeeves and Wooster in Perfect Nonsense. Another successful production which had audiences still laughing as they left the theatre.

Our current production is a much more sombre affair. William Shakespeare's tragedy Macbeth is currently on at Beau Sejour theatre until the 21st October. Some tickets are still available.

Auditions have now been held for our 2017 Easter musical Chitty Chitty Bang Bang. The cast list can be found on the "Coming Up" page.
In November auditions will be held for One Man, Two Guvnors which will be our October 2017 production. Audition packs are now available. See the "Coming Up" page for more details.

The "Archive" page now has a selection of photographs from most productions of the last 40 years. We have also started to build up a 'Directors Gallery' of all the directors since the club started in 1927.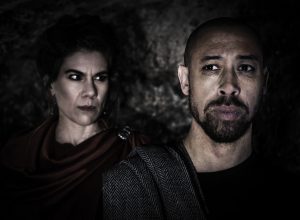 Stephanie Andrijasevic as Lady Macbeth and Andrew Hislop as Macbeth from our next production, William Shakespeare's Macbeth directed by Gillian Jackson.