Welcome to the website of GADOC, the Guernsey Amateur Dramatic and Operatic Club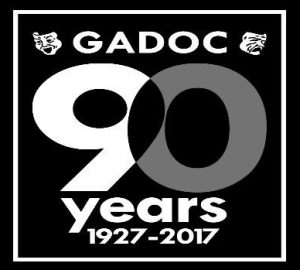 Since 1927 GADOC has been leading the way in local theatre. During the last 90 years we have produced over 350 plays, musicals and pantomimes. Although an amateur club, the depth of talent that we have as members enables us to bring professional standard productions to the Guernsey stage. Our aim is to bring diverse theatrical experiences to our audiences, from Shakespeare to Ayckbourn, Rogers and Hammerstein to Jason Robert Brown, we will continue to give you old favourites along with recent West End shows as well as, of course, our annual pantomime.
Our Next Production:-
18th December 2021 to 1st January 2022
Mother Goose
Written by Alan P. Frayn
Directed by Claire Cathcart & Jodie Hicks
Produced by Dennis Burns
Claire Cathcart and Jodie Hicks are going to co-direct this year's pantomime, Mother Goose, supported by Dennis Burns as producer. Claire and Jodie were due to direct a one act play last year, and we are pleased this is scheduled for the 2021 one act play festival later this year instead. Claire and Jodie have a plethora of panto experience behind them and we can't wait to see what they will bring to the stage this Christmas.
Performances:-
Matinees: December 18th, 19th, 26th, 27th, and 28th at 2pm
Evenings: December 18th, 21st, 22nd, 23rd, 27th, 29th, 30th, 31st and January 1st at 7:30pm