Welcome to the website of GADOC, the Guernsey Amateur Dramatic and Operatic Club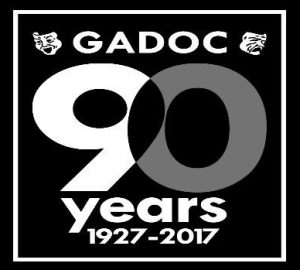 Since 1927 GADOC has been leading the way in local theatre. During the last 90 years we have produced over 350 plays, musicals and pantomimes. Although an amateur club, the depth of talent that we have as members enables us to bring professional standard productions to the Guernsey stage. Our aim is to bring diverse theatrical experiences to our audiences, from Shakespeare to Ayckbourn, Rogers and Hammerstein to Jason Robert Brown, we will continue to give you old favourites along with recent West End shows as well as, of course, our annual pantomime.
Our Next Production:-
8th to 15th April 2023
9 to 5: The Musical
Directed by Lisa Johnston

Music and lyrics by Dolly Parton
Book by Patricia Resnick
9 to 5 is a musical comedy based on the 1980 movie of the same name, and features music and lyrics by the inimitable Dolly Parton. It centres on the downtrodden working lives of three women: Violet, Judy, and Doralee. They work at Consolidated Industries, which is presided over by the sexist, lecherous and pompous Franklin Hart. With some hilarious antics along the way, the three girls form a strong friendship, demonstrating girl power at its very best! Together they plot the downfall of Hart and rise to the top of the company, changing the working lives of everyone at Consolidated Industries for the better.
With its irreverent look at the 1980s, this show manages to be both funny and poignant. It is packed full of fantastic musical numbers together with great choreography – not to mention a look back at 1980s fashion! – and promises a brilliant night for all. We guarantee you'll leave the theatre singing the title song… 9 to 5!
Rating 12 – parental guidance recommended – mild mature references.
Tickets on sale now at Beau Sejour and www.guernseytickets.gg, click a date below to book that performance:
Sat 8 Apr 19:30 – Book now
Mon 10 Apr 14:00 – Book now
Mon 10 Apr 19:30 – Book now
Tues 11 Apr 19:30 – Book now
Weds 12 Apr 19:30 – Book now
Thurs 13 Apr 19:30 – Book now
Fri 14 Apr 19:30 – Book now
Sat 15 Apr 19:30 – Book now