Welcome to the website of GADOC, the Guernsey Amateur Dramatic and Operatic Club.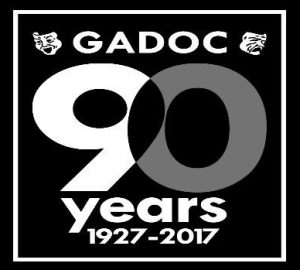 Since 1927 GADOC has been leading the way in local theatre. During the last 90 years we have produced over 350 plays, musicals and pantomimes. Although an amateur club, the depth of talent that we have as members enables us to bring professional standard productions to the Guernsey stage. Our aim is to bring diverse theatrical experiences to our audiences, from Shakespeare to Ayckbourn, Rogers and Hammerstein to Jason Robert Brown, we will continue to give you old favourites along with recent West End shows as well as, of course, our annual pantomime.

Our Next Production:-
In Ken Ludwig's comedy "Moon Over Buffalo", actors Charlotte and George Hay are on a USA tour in the 1950s with a repertory consisting of "Cyrano de Bergerac" (revised one-nostril version) and Noel Coward's "Private Lives", when they receive word that they might just have one last shot at stardom: a famous Broadway director is coming to see their matinee performance. What could possibly go wrong…?
Tickets will be on sale from Friday June 15th 2018