Welcome to the website of GADOC, the Guernsey Amateur Dramatic and Operatic Club.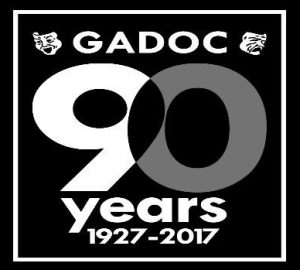 Since 1927 GADOC has been leading the way in local theatre. During the last 90 years we have produced over 350 plays, musicals and pantomimes. Although an amateur club, the depth of talent that we have as members enables us to bring professional standard productions to the Guernsey stage. Our aim is to bring diverse theatrical experiences to our audiences, from Shakespeare to Ayckbourn, Rogers and Hammerstein to Jason Robert Brown, we will continue to give you old favourites along with recent West End shows as well as, of course, our annual pantomime.

We are currently in the process of auditioning cast for our October production, Romeo and Juliet. Full details can be found on the 'Coming Up' page.
Our Next Production:-
20th to 27th April 2019
The Greatest Shows
Directed by Lisa Johnston

Performance Dates:-
Evenings (7:30pm): Saturday April 20th to Saturday April 27th (excluding Sunday 21st April)
Matinees (2:00pm): Sunday April 21st and Monday April 22nd
Tickets priced £20 and £16 (Under 18s/OAPs) are available at all usual ticket venues, by telephone on 747280 or on-line at www.guernseytickets.gg.