Welcome to the website of GADOC, the Guernsey Amateur Dramatic and Operatic Club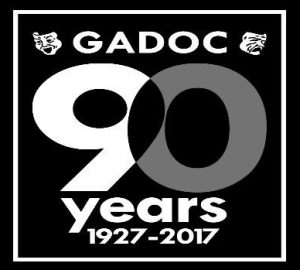 Since 1927 GADOC has been leading the way in local theatre. During the last 90 years we have produced over 350 plays, musicals and pantomimes. Although an amateur club, the depth of talent that we have as members enables us to bring professional standard productions to the Guernsey stage. Our aim is to bring diverse theatrical experiences to our audiences, from Shakespeare to Ayckbourn, Rogers and Hammerstein to Jason Robert Brown, we will continue to give you old favourites along with recent West End shows as well as, of course, our annual pantomime.

Our Next Production:-
December 21st 2019 to January 4th 2020
Jack and the Beanstalk

by Alan P Frayn
Directed by Dennis Burns
It's panto time again !
Join us for GADOC's 61st annual Christmas extravaganza, where we join Jack, our hero, his widowed mother, Dotty Dimple, and his dopey brother, Simple Simon, as they try to rescue Princess Charlotte from the clutches of the evil Giant, Buster Gut Bucket.
Packed with song, dance and comedy, not to mention magic beans and a tap-dancing cow.
Matinees:- 22nd, 26th, 28th, 29th December, 1st January at 2pm
Evenings:- 21st, 23rd, 27th, 28th, 30th, 31st December, 2nd, 3rd, 4th January at 7:30pm
Tickets will be on sale from 1st November 2019