Welcome to the website of GADOC, the Guernsey Amateur Dramatic and Operatic Club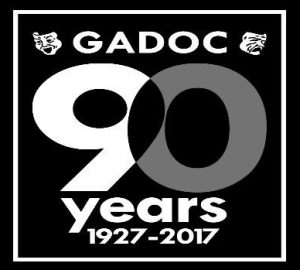 Since 1927 GADOC has been leading the way in local theatre. During the last 90 years we have produced over 350 plays, musicals and pantomimes. Although an amateur club, the depth of talent that we have as members enables us to bring professional standard productions to the Guernsey stage. Our aim is to bring diverse theatrical experiences to our audiences, from Shakespeare to Ayckbourn, Rogers and Hammerstein to Jason Robert Brown, we will continue to give you old favourites along with recent West End shows as well as, of course, our annual pantomime.

Our next auditions will be for Annie, our 2020 Easter Musical. Details of how to register for an audition pack can be found on the "Coming Up" page.
Our Next Production:-
October 22nd to October 25th 2019
Romeo and Juliet

Romeo and Juliet is set in Verona – a city torn apart by rivalry between two powerful households, the Capulets and Montagues.
Shakespeare tells the story of two young lovers caught up in their parents long standing feud. Their love triggers off revenge, killings and their own tragic ends within the space of a few days. The action of the play is fast with violence changing from danger to bawdy humour to romantic love.
Romeo and Juliet tells a story from the past but serves as a reminder to us today that prejudice leads to mindless violence and unnecessary death and suffering.
Tickets will be on sale from 30th August 2019