Future Productions
2nd to 6th July 2019

The 71st One Act Play Festival

GADOC's Annual One Act Play Festival 2019 will be held during the week commencing Sunday 30th June; the first part of the week will be devoted to Dress Rehearsals and the Festival itself will run from Tuesday 2nd July to Saturday 6th July. The full schedule can be found on the OAPF page.
Our adjudicator for 2019 is Ben Humphrey (Richard Woodward is unable to attend) who is a member of the Guild of Drama Adjudicators.
Tickets now on sale
23rd to 27th July 2019
The Vicar of Dibley

Written by Ian Gower and Paul Carpenter (based on the original scripts by Richard Curtis and Paul Mayhew-Archer)
Directed by Margaret Moffatt
Tickets now on sale

22nd to 25th October 2019
Romeo and Juliet

Written by William Shakespeare
Directed by Gillian Jackson
Cast will be announced soon

21st December 2019 to 4th January 2020

Our 61st Annual Pantomime
Jack and the Beanstalk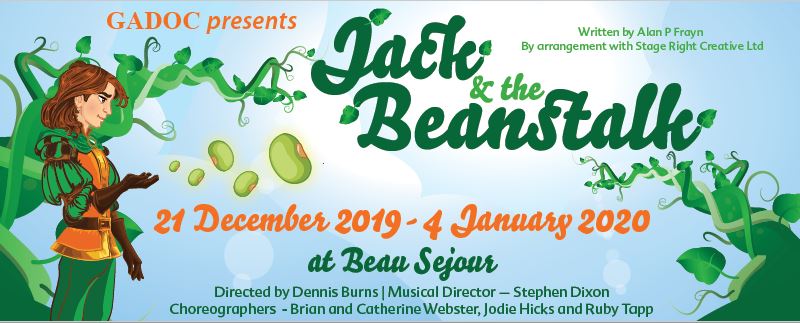 by Alan P Frayn
Directed by Dennis Burns
Dates for your diary (subject to confirmation):-
Audition packs available on 1st June from St Peter's Post Office.
Initial gathering on Sunday 7th July at 10am at The Rink.
Auditions on Sunday 21st July at 2pm at the Rink.
Keep checking here or on Facebook for any updates.
Easter 2020


Book by Thomas Meehan, Music by Charles Strouse, Lyrics by Martin Charnin
Directed by Lisa Johnston
Auditions will be held in September 2019 – watch this space for details
Summer/October/December 2020

We are currently accepting submissions from directors for our
2020 Summer Season, October Production and 62nd Annual Pantomime