Future Productions
21st December 2019 to 4th January 2020
Our 61st Annual Pantomime
Jack and the Beanstalk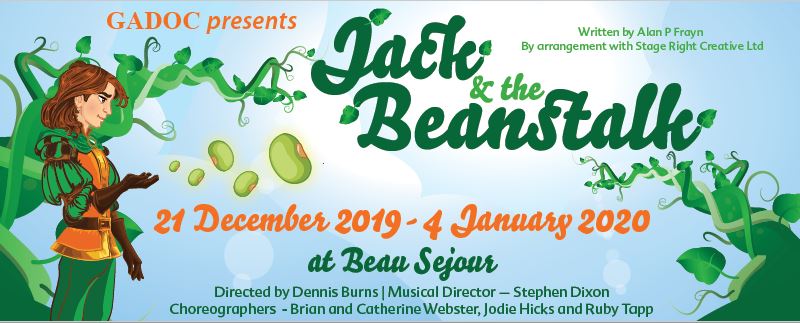 by Alan P Frayn
Directed by Dennis Burns
It's panto time again !
Join us for GADOC's 61st annual Christmas extravaganza, where we join Jack, our hero, his widowed mother, Dotty Dimple, and his dopey brother, Simple Simon, as they try to rescue Princess Charlotte from the clutches of the evil Giant, Buster Gut Bucket.
Packed with song, dance and comedy, not to mention magic beans and a tap-dancing cow.
Matinees:- 22nd, 26th, 28th, 29th December, 1st January at 2pm
Evenings:- 21st, 23rd, 27th, 28th, 30th, 31st December, 2nd, 3rd, 4th January at 7:30pm
Tickets on sale from 1st November 2019
Easter 2020

Annie

Book by Thomas Meehan, Music by Charles Strouse, Lyrics by Martin Charnin
Directed by Lisa Johnston
w/c 16th May 2020

The 72nd Guernsey
One Act Play Festival
Summer/October/December 2020

We are currently accepting submissions from directors for our 2020 Summer Season, October Production and 62nd Annual Pantomime