May 28th 2021

Bully! The Musical

Elizabeth College Hall at 6:30pm and 8:00pm
The One Act Play Festival might be cancelled but join GADOC's young people as they perform their One Act Musical, 'Bully', directed by Claire Cathcart and Jodie Hicks.
Tickets are on the door and are priced at £5.
The musical by Starshine Music is about Ellie who is making Jake's life a misery. He wishes time would go backwards to happier days. Escape seems to be the only answer. Jake finds he has one true friend in Danny, but they each have a shock in store.
31st July to 7th August 2021

Annie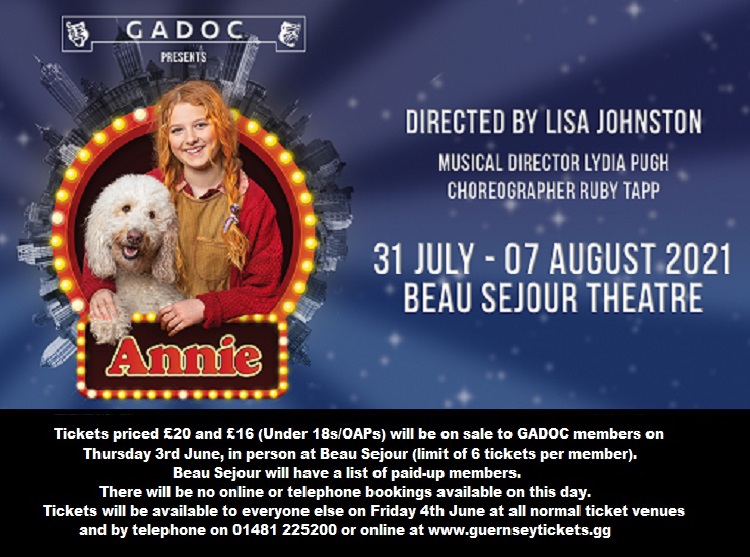 Book by Thomas Meehan, Music by Charles Strouse, Lyrics by Martin Charnin
Directed by Lisa Johnston
We are delighted to be staging a 20th Anniversary production of Annie, the Broadway musical based on the comic strip "Little Orphan Annie".  First staged in 2000, some of the original cast are taking to the stage once again – orphans are now senior dancers, Daddy Warbucks is now Roosevelt and Grace Farrell (Lisa Johnston) is directing the show!  Complete with a totally adorable Sandy, audiences will once again fall in love with this endearing production which is full of musical favourites such as "It's the Hard-Knock Life", "Little Girls", "Never Fully Dressed Without a Smile", and of course, "Tomorrow".
w/c 25th October 2021

Chicago
Music by John Kander, lyrics by Fred Ebb
Book by Fred Ebb and Bob Fosse
Directed by Lisa Johnston
5, 6, 7, 8! This October, Lisa Johnston is bringing the world-famous musical Chicago to Guernsey. Set during the roaring "jazz hot" 20s, Chicago tells the story of two rival vaudevillian murderesses locked up in Cook County Jail. Nightclub star Velma's serving time for killing her husband and sister after finding the two in bed together. Chorus girl Roxie's been tossed in the joint for bumping off her lover. Not one to rest on her laurels, Velma enlists the help of prison matron Mama Morton and slickster lawyer Billy Flynn, who turn Velma's incarceration into a murder-of-the-week media frenzy, thus preparing the world for a splashy showbiz comeback. But Roxie's got some of her own tricks up her sleeve…
Details of auditions will be announced in due course so get ready to razzle dazzle 'em!
December 2021 to January 2022

Our 63rd Annual Pantomime
Mother Goose
Written by Alan P. Frayn
Directed by Claire Cathcart & Jodie Hicks
Produced by Dennis Burns
Claire Cathcart and Jodie Hicks are going to co-direct this year's pantomime, Mother Goose, supported by Dennis Burns as producer. Claire and Jodie were due to direct a one act play last year, and we are pleased this is scheduled for the 2021 one act play festival later this year instead. Claire and Jodie have a plethora of panto experience behind them and we can't wait to see what they will bring to the stage this Christmas.
Scripts will be available from the 12th of June – more info to follow!
Gathering 20th June – 10.00am – 11.30am
Auditions 27th June – 9.00am – 1.15pm
Easter 2022
Jesus Christ Superstar
By Andrew Lloyd Webber & Tim Rice
Directed by Michael Sullivan
Produced by Lisa Johnston
Michael Sullivan will be taking a seat in the director chair once again to present our 2022 Easter Musical, Jesus Christ Superstar by Andrew Lloyd Webber and Tim Rice; Mike will be supported by Lisa Johnston as Producer. A global phenomenon that has wowed audiences for over 40 years, Jesus Christ Superstar is a timeless work set against the backdrop of an extraordinary and universally known series of events but seen through the eyes of Judas Iscariot. The story, told entirely through song, explores the personal relationships and struggles between Jesus, Judas, Mary Magdalene, his disciples, his followers, and the Roman Empire. The iconic 1970s rock score contains such well-known numbers as "Superstar," "I Don't Know How to Love Him" and "Gethsemane."
May 2022

The 72nd Guernsey
One Act Play Festival
Summer 2022
Witness For the Prosecution
By Agatha Christie
Directed by Michael Sullivan
Produced by Lisa Johnston
Although no stranger to the stage, Mike Sullivan made his directing debut in the 2019 One Act Play Festival; this will be Mike's first time directing for GADOC as part of our annual calendar of productions, and we're delighted to welcome him onboard! Supported by Lisa Johnston as Producer, we are very excited to see Agatha Christie's murder mystery come to life this August. The affable Leonard Vole is being tried for the murder of a wealthy woman, and legendary lawyer Sir Wilfrid Robarts has chosen to represent him. Unfortunately, Leonard's alibi depends on the testimony of his callous wife, Christine – who, after the discovery of a legal loophole, makes the shocking decision to appear in court against him. To Sir Wilfrid's surprise, this is only the first in a series of puzzling revelations and reversals.
Details of auditions will be announced in due course so do keep an eye out.
Summer 2022

A Vicar of Dibley Christmas -The Second Coming
A stage play by Ian Gower & Paul Carpenter
Adapted from the original TV series by Richard Curtis and Paul Mayhew-Archer with kind permission of Tiger Aspect Productions
Directed by Margaret Moffatt
After a fantastic success in 2019, Margaret Moffatt is once again getting her team together to bring to stage a second version of The Vicar of Dibley, this time with a festive twist! A Vicar of Dibley Christmas – The Second Coming continues the story with Geraldine still desperately trying to bring order out of the chaos that is the Dibley Parish Council. We see Hugo and Alice return from their honeymoon and Geraldine is stunned when Alice actually has a good idea. Why not put on a Nativity play? Why not indeed! What can possibly go wrong?
Summer 2022 to Easter 2023

We are looking for submissions for the following productions:-
Summer & October 2022 (deadline – 31stDecember 2021)
Panto 2022/23 (deadline – 31stJuly 2021)
Easter 2023 (deadline – 31stAugust 2021)