Bully! The Musical
Written by Jo Sands and Ruth Kenward, Directed by Claire Cathcart and Jodie Hicks
Elizabeth College Hall 28th May 2021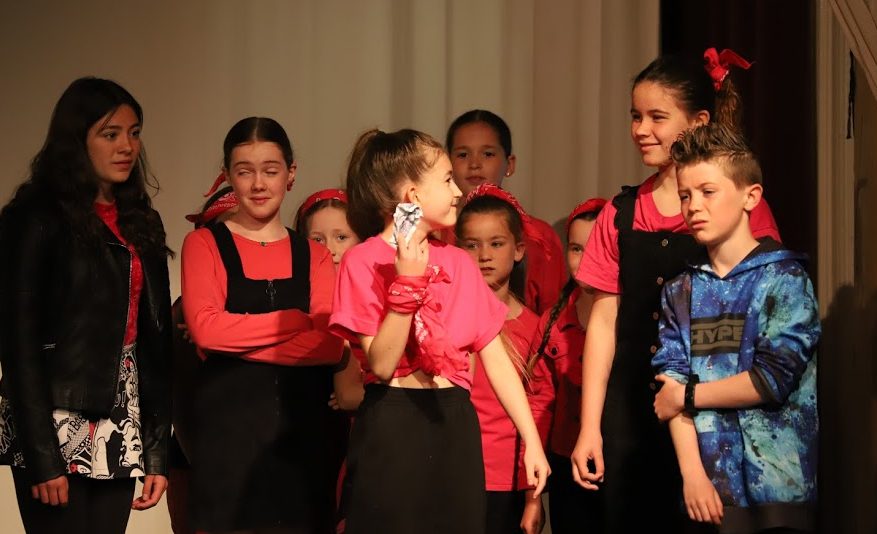 WOW!!!! There are not enough words to express just how magical Bully! was!! Following the unfortunate cancellation of the One Act Play Festival earlier this year (due to the adjudicator not being able to abide by the then isolation restrictions), Jodie Hicks and Claire Cathcart were very keen to continue with their one act play, to give them experience of directing and all the peripheral responsibilities that entails. The play carries a powerful message, and the young cast, some of them taking their first steps onstage, conveyed this to the audience with both compassion and energy throughout. The dialogue was confidently delivered, and the vocals were strong, with solos confidently sung. Special mention must be made of the song "Out There", sung and signed by the whole company, a very moving experience for everyone. Steffi Savident was responsible for the creative choreography which was spot on and perfect for each song; and the three-piece band led by Stephen Dixon provided quite the perfect accompaniment to compliment the evening. Moving this production to Elizabeth College was unfamiliar territory with some challenges to overcome. But that didn't deter these two directors, who made clever use of the space and found opportunities to bring some of the action into the audience. The backstage crew led by Sol Phillips kept everything running smoothly and the set was clever and innovative. It would be wrong to single out any one of the young actors who performed, as every single person fully committed to the production from start to finish and contributed to its success. But the last mention must surely go to both Claire and Jodie, who had the vision, drive and determination to work with some of our youngest members and bring this wonderful play to the stage – the biggest of congratulations to you both. You should be so so proud of Bully, you will never forget your first production as Directors, and I can't wait to see Mother Goose at Christmas.
Lisa Johnston
---
Cinderella
Written by Alan P Frayn, Directed by Judy Moore
Beau Sejour Theatre 19th December 2020 to 2nd January 2021
Well – cast, crew, orchestra etc – can you believe that it is behind you? After so many months of preparation for this year's pantomime and a run of nearly two weeks at the theatre you must all be exhausted and glad to be able to sit down and put your feet up and think 'Good job, well done!' You all certainly have every right to feel proud for – What a Show! I sat through eleven of the fourteen performances and not once did I feel bored or restless for there was so much to see and to appreciate and every performance had its special moments. 'Cinderella', the pantomime, was slick and fast moving, with beautiful choreography performed so well by all the dancers and the 'babes' were delightful, providing the 'ah' factor. The music was superb, the costumes brilliant and colourful and the set was great. Each member of the cast gave his/her all at every performance and it would be invidious to single out any one character but the Ugly Sisters were hilarious, Buttons was 'funny' and managed to get the audiences' sympathy. Our two young leads were delightful and how lovely it is to see youngsters taking on main roles and carrying them off so beautifully. As I say, everyone performed really well and contributed to the magic of the show. I was particularly impressed by the children's performances for they were so well disciplined and yet they conveyed a great enjoyment so warm congratulations to their choreographers and to their chaperones.The cast was large – fifty-four in all, I think, but when I reread the programme before writing this I realized that there were almost as many people working backstage as onstage! Well done to you all, I cannot thank each one but I must congratulate Sol, Mike and Sue and Nigel in particular. You all did a splendid job! Also a big shout-out to Dave Wilson, who, I am told, did a great job painting scenery, helping with set up and take down and also stewarded for me for most every performance. Thanks Dave, I don't know what I would do without you! Who have I forgotten? Ah yes, Judy! What a great job you did bringing all this together and giving so much joy to the people of Guernsey in these troubled times. You should feel very proud! The Show was attended by more than five thousand people and only thirty seats were unsold for the entire run –this amounted to 99.5% of capacity filled. Congratulations and thanks go to you all for two wonderful weeks of theatre! My last words refer to a little girl of just four years old, the granddaughter of one of my friends, who had never been to the theatre before but who sat transfixed by the magic! What greater compliment can there be!
Barbara Minta
---
Keeping Up Appearances
Written by Roy Clarke, Directed by Margaret Moffatt
Beau Sejour Theatre 20th October to 24th October 2020
TV comedy adaptations for the stage have been a regular feature of GADOC's output since 'Dad's Army' in 2005. The intervening years have seen 'Allo Allo', 'Fawlty Towers', 'Blackadder', and most recently, last year's production of 'The Vicar of Dibley'. And the Guernsey audiences seem to love seeing those familiar TV characters portrayed on Beau Sejour's stage. Once again, the show played to packed housesfor five nights. Roy Clarke's gentle comedies include, of course, 'Open All Hours', and the long running 'Last of the Summer Wine', which was on TV for an incredible 37 years. His style is not to pack the script with gags, but to create the humour with the interaction of his unforgettable characters – Arkwright and his errand boy G-G-G-Granville (and Nurse Gladys Emmanuel) – Foggy, Clegg and Compo (and of course Norah Batty) – and in' Keeping up Appearances' the unforgettable Hyacinth Bucket (pronounced 'Bouquet'), and the family she tries to conceal. Margaret Moffat's production had a brilliant cast of many of GADOC's most accomplished actors, so we knew we were in for a treat from the opening on the stage of the village hall, with John Murr as Emmet and Kath Prince as Liz planning a murder mystery play. Soon Hyacinth appears and manages to acquire a part, (in fact two), despite Emmet's protestations. Also cast in Emmet's play are Hyacinth's sister Daisy and her proudly lower class husband Onslow, played hilariously by Lexi Goater and Steve Rouxel, who adopted a creditable Scouse accent for the slobbish part made so famous by Geoffrey Hughes. A shy newcomer to the village, Edward Milson, played by Steve Molnar, is soon roped into the cast, and becomes the latest target of the amorous attentions of another of Hyacinth's sisters, Rose, played with brilliant lustfulness by Claire Hammond, making her GADOC debut. Hyacinth is anxious to impress Mrs Debden, who we meet later in the piece, played with upper class severity by Cathy Gill, and is even more anxious to prevent her Daddy, a World War two veteran, from making an appearance, which, of course he does at the climax of the play – an unforgettable non-speaking cameo from Max Crouchley, in a gas mask and extremely dodgy Y-fronts! All the above captured the hilarity of the piece perfectly, but, of course the whole action centres around Hyacinth and her absurd snobbishness. Pauline Telford once again showed us what a wonderful comic actress she is, in a tour de force performance as Mrs Bucket ('Bouquet!') On stage for most of the two hours, with several costume changes and a great deal of physical comedy to cope with, she must have been absolutely exhausted at the end of the run. Congratulations to Margaret and her team for once again bringing some delightful TV comedy to the stage –what next ???
---
Jack and the Beanstalk
Written by Alan P Frayn, Directed by Dennis Burns
Beau Sejour Theatre 21st December 2019 to 4th January 2020

For those of you who know me, you will be aware that I was never a big fan of pantomime.  Not any more !!   'Jack and the Beanstalk' was simply fab-u-lous!  I don't ever remember pantos getting standing ovations before but this one certainly did on the night I was there.
As a reviewer, I am finding it hard to write anything critical as every facet of the show was spot on.   The first thing I noticed on entering the theatre was the sound desk being at the back of the auditorium and not in the techs' box.   This certainly made a difference ensuring that the balance of sound was just right and that we could hear every word even though the band, which was excellent, played loudly at times.   Having the principals 'miked' certainly lifted the whole performance and the sound technicians had to work hard to ensure the dialogue and songs came over so well.
The opening of the show gave us a taste of what was to come.  The set, the colour, the costumes, the singing, the dancing and most of all, the energy were all of such a high standard that one wondered if it could be maintained throughout the show.  We need not have worried.
It was good to see that the chorus was as well drilled as the principals, with no hangers-on.   From the tiniest babe to the oldest citizen all gave of their best throughout the show.   One would expect the choreography to be good with Brian Webster and his team in charge but all the dancers were exceptional maintaining their high standards right to the end.
The main roles came over very well and there isn't space to mention them all but I must single out some who were outstanding.    Jodie Hicks' vitality and vigour moved the show along at a terrific pace.  Her characterisation of Simple Simon was both amusing and highly energetic.  I hope she managed to maintain this to the end of the run as it must have been quite exhausting.  Her 'brother' Jack was played very well by Ivy Botzenhardt offering the perfect antidote to Simon's zany antics.
One of the most memorable performances came from Claire Cathcart as Piccalilli Witch.  Her great costume and make-up helped her 'evil' character but she managed to put it over with all the gravitas that was needed and her sidekick Matthieu Mayer as Rancid played out his comic punk routine very well.  A newcomer Theresa Garn as Fairy Sugardust was as her name suggests, sweet and smart aided by a lovely authentic Welsh accent.
Dave King played the panto dame Dotty Dimple in his inimitable way with lots of giggles, outrageous one-liners and a sprinkling of adult humour which had the audience in fits of laughter.  Alex Kaill and Steve Ozanne as the brokers men Snatchet and Scarper (geddit?) worked hard to get the laughs and added to the fun.
Nikki Becker and Pete le Lacheur's delightfully comic Queen and King were straight from Windsor and Sandringham,  and their Daughter, Princess Charlotte, Jack's love interest, was played with both feistiness and vulnerability by Amy Stinton.
But everyone worked hard so congratulations must go to them all, including  Buttermilk the dancing cow.  It would be remiss not to mention the fantastic special lighting and sound effects, especially those associated with the Giant and a couple of the dances using butterfly wings, gloves and masks with LED's.
Very well done also to Joe Andrijasevic for performing multiple roles from a very acrobatic dancer to a smart trumpet playing Herald.
Of course on top of the fifty-odd people performing on the stage and in the pit there were even more people behind the scenes from 25 chaperones to over a dozen stage crew, plus set designers and builders, costume makers and many more.  Special thanks to Keith Langlois for painting an eye-catching set in a simplistic and stylised way leaving ample space for the large cast to create their magic.
Congratulations to all concerned for an evening of high entertainment.  Dennis Burns, take a bow, both for your direction and for amassing a team of brilliant specialists around you who took panto to new heights.
Bob Thompson
---
Romeo and Juliet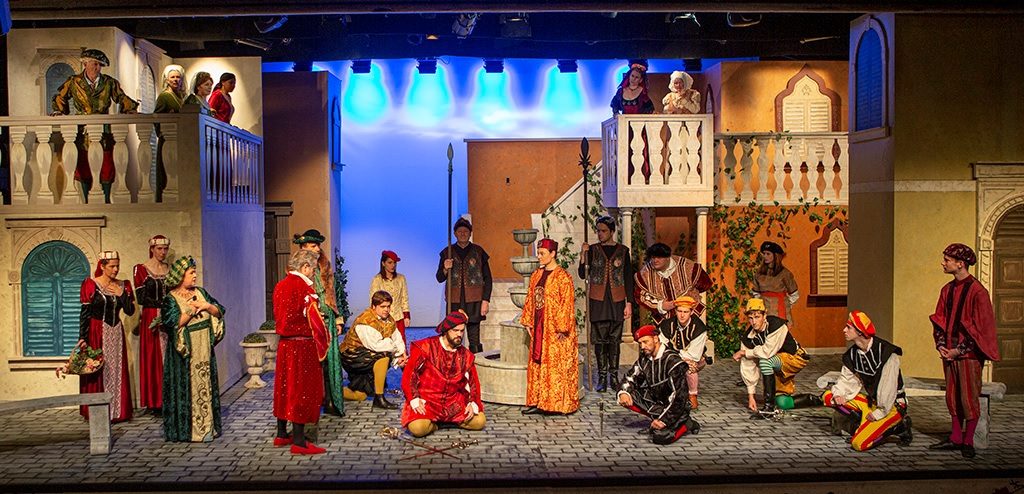 Many of us can feel a bit intimidated by the thought of going to see a Shakespeare play. Perhaps memories from our schooldays of impenetrable Elizabethan text, and obscure references, which usually had to be checked in the accompanying notes to be understood, unfairly colour our perceptions. It must be remembered though, that these were plays first and foremost, and as such were meant to be performed, not read like novels.
The GADOC Shakespeare team, led by the indefatigable Gill Jackson, has done so much over the last few years to change the views of Guernsey audiences, and once again I have had so many people say to me, since the performances, "I've never really got Shakespeare, but I really enjoyed that show – it was wonderful". And so it was. From the moment we entered the auditorium, we were in 'Fair Verona'. Musicians in period costumes performed in front of a brilliantly designed set from Simon Rowe and his team, with balconied houses, terraces, staircases and even a fountain, atop a stage painted to look like a realistic cobbled Italian town square. Even the stage front was adorned with the play's name in period graphics. The set remained constant throughout, with any scene changes being accomplished by clever use of lighting, and actors moving props and furniture to suggest a new location. This meant that the action could flow seamlessly throughout.
And what action! The play begins with a street brawl between the feuding Montagues and Capulets, and this was a tour de force of physical theatre, with scarily authentic swordfights arranged by Dave Hyett, which were to be repeated later in the piece. The story is familiar to us all, and Gillian never let the pace drop for a moment, as we were held spellbound as the two young lovers hurried towards their awful fate in the 'two-hour traffic of our stage'. (Well, two and a half, plus interval, to be fair).
A large cast had to be costumed, and magnificently so – the attention to detail in the period dress was outstanding – with the Capulets predominantly in red, contrasting with the green clad Montagues. A large team of costumiers had worked many hours to achieve that stunning look.
And what about the cast? Well it's perhaps unfair to single out individual performances in what was such a brilliant team effort, but I have to give special mention to Matthieu Mayer and Amy Stinton for their simply outstanding performances as the doomed lovers. These young people, still junior members of our Club, acted with a skill, sensitivity and maturity way beyond their tender years to captivate the audiences night after night. And the supporting cast were equally superb, newcomers and old hands alike. GADOC is blessed with extraordinary talent, as we know, and all ages were represented in this production.
Congratulations to Gillian and all her fantastic team for once again bringing us the glorious works of the greatest writer who ever lived.
Dennis Burns
---
The Vicar of Dibley
The week commencing 22 July saw a packed Beau Sejour as GADOC took to the stage with The Vicar of Dibley directed by Margaret Moffatt. And what a show it was from the simple yet clever set, the witty dialogue, the creative direction and exceptionally talented cast. The full houses were left roaring with laughter every night. Imitating the quirky, loveable, memorable characters if this quintessentially English favourite is no mean feat, but the cast rose to their task splendidly and had the audience roaring with laughter within a matter of seconds. And that set the agenda for the remainder of the evening. There were exceptionally polished performances throughout; it was as if the cast had abandoned Netflix entirely and dedicated all TV time in the past six months to watching reruns of the chocolate –loving Vicar and her band of bizarre villagers. In the lead role, Lexi Goater perfectly captured the funny, slightly tortured Geraldine Granger, making what was a mammoth amount of dialogue look simple! Kudos must go to Natalie Wrigley for her adorably eccentric version of Alice Tinker, who received deserved applause for nailing the "I can't believe it's not butter" speech. Jill Stevenson as Letitia Cropley delivered her lines about her weird and wonderful food creations with perfect innocence, whilst John Murr, as Frank Pickle has certainly taught the GADOC Committee a thing or two about writing a set of minutes which we were still laughing about at our recent meeting. Sandy Adams as always, had oodles of energy as Hugo Horton. Perhaps the hardest role to play, whilst all laughs are being had, is the straight man, but Steve Molnar stepped up to the plate and played David Horton with a perfect amount of contempt and sarcasm. However, the biggest laughs of the night had to go to Stephen Rouxel and Max Crouchley. Steve played the quite frankly disgusting Owen Newitt and from his accent to his delivery of the lines, the audience could easily believe that they were watching Roger Lloyd-Pack (who originated the part on the TV series). As for Max playing Jim Trott, well his "no no no no knowing me, no no no no knowing you" Best Man speech has us rolling around in the aisles. Now on to the set which had been designed by Judy Moore. The stage was split into three sections to portray the Village Hall, the Vicarage and a small room in the Church. The actors moving seamlessly between the three places never once slowing the pace of the action. Knowing the TV show quite well I did wonder how the final wedding scene would play out without the Church being part of the set. However, I was not to be disappointed as an altar was revealed, carefully hidden in the set to ensure that the final scene was all the audience had hoped for. As we left the theatre, cheeks and sides aching from a vigorous two hours exercise we marvelled at how well the cast, crew and Margaret had encapsulated the spirit of the show; poking fun at the dim-witted and quite often absurdly stupid characters, whilst still capturing the beauty and gentle camaraderie of small community living. It was a show that made me very proud to be a GADOC member.
Martine Wallbridge (with the help of Sam!)
---
The Greatest Shows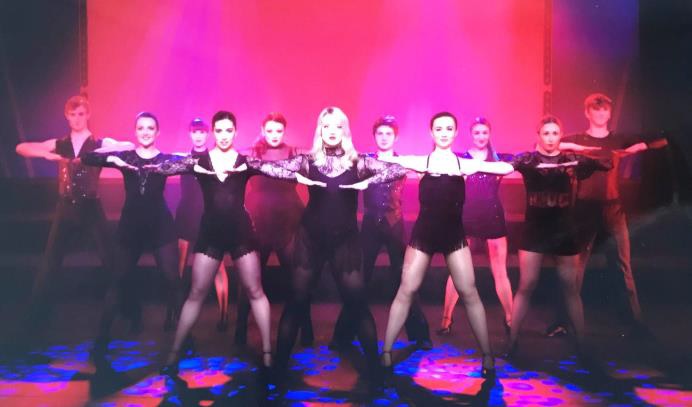 'The West End' came to Guernsey! How many times in recent years have we heard that accolade? But come to Guernsey with a bang the West End certainly did during Easter week, 2019!
'The Greatest Shows' featured excerpts from seventeen different musicals, some new to most Guernsey people, some nostalgically familiar and others so well-known for their infectious, foot tapping music! The Show opened with an exciting presentation of songs from 'The Greatest Showman' which had the audience whooping and cheering from the outset – a foretaste of what was to follow!
The production team was led by the energetic, irrepressible, always up for a challenge, Lisa Johnston and rise to the challenge they certainly did. Excerpts were well chosen and excellently performed in every case. There was 'something for everyone'! Lisa's team comprised the brilliant costumier, Dany Adams who, together with her great team of sewers, adapted, made and sourced nearly four hundred different costumes and spectacular they were! Exciting choreography was in the capable hands (or should I say feet?) of Michelle Redhead, supported by Ruby Tapp and dance captain, Naomi Johnston.
Simon Ricketts, musical director of great repute, together with voice coach, Lydia Pugh, challenged the company to produce an amazing sound! An excellent backstage team, led by 'Gaffer; Andy Gethin Jones, kept the show running smoothly at every performance, if ever there was a hitch we in the audience were not aware of it. The Lighting and stage settings were terrific and enhanced the work of the performers. Then there were the other back stage crew – chaperones, led by Sarah Hicks, dressers etc who, unseen and unheard, kept the youngsters and adults under control, ensuring they were in the right place, at the right time, wearing the right costume! So many people to ensure the success of such a production!
Having mentioned the youngsters above I must here pay tribute to their enthusiasm and dedication, they obviously enjoyed themselves and so we did, watching them – they were all superb! The adult cast, likewise, conveyed a great sense of enjoyment; they were dedicated, professional and quite brilliant!
I am not going to comment on every extract, that would read like a shopping list, but I will mention a few of the highlights which for me made every performance so very special. I had a tear in my eye when Zaheer Anees, supported by Ruby Tapp and Lydia Pugh, performed 'The Letter' from 'Billy Elliott', Josh Gabriel and Tom Cheshire in their song from Hairspray had the audience rocking with laughter, the 'preppy' young men in the Book of Mormon were so gorgeous and funny, excerpts from 'Chicago' and 'Mama Mia', well known to us, but performed with such panache and excitement they will live long in the memory. I could rave about every excerpt from every show but suffice it to say that the performers gave 'their all' and they thrilled the audiences who, at every performance, rose to their feet at each finale to pay their own tribute!
I cannot finish without commenting on Guernsey's own holidaymakers in Las Vegas, who held the show together so brilliantly, giving the cast time to change costumes etc and allowing us in the audience to enjoy some good Guernsey humour, by courtesy of Messrs Burns and Prince.
A huge triumph for GADOC and the club is to be congratulated on 'raising the bar' even higher. Guernsey audiences have come to expect this from our productions and long may it continue! 'A la Perchoine'
Barbara Minta
---
Dick Whittington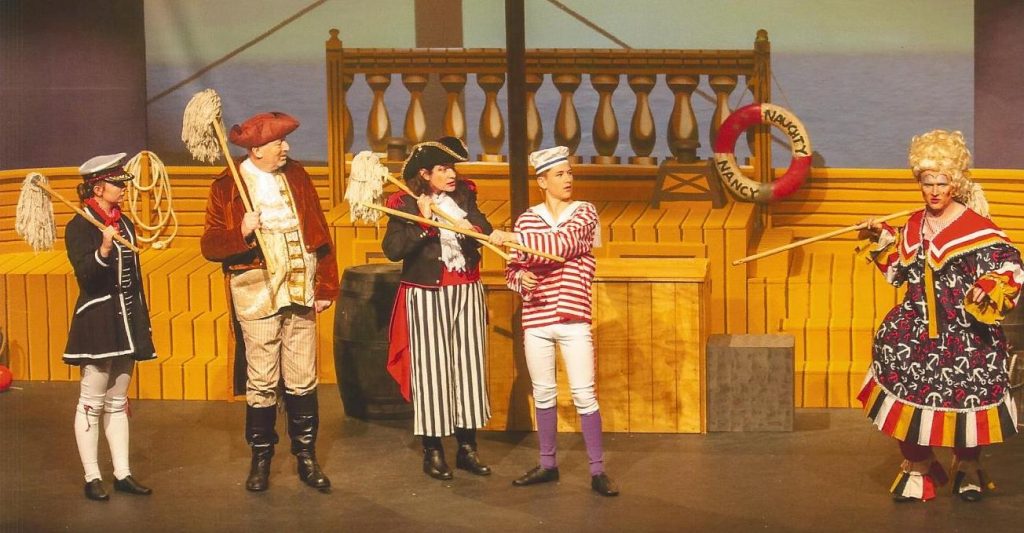 60 years of pantomimes – without a break – since 'Cinderella' opened at the Little Theatre in December of 1959. The year that saw Britain's first motorway, the M1, opened, and the first mini (car, not skirt), travel along it. If that doesn't make some of us feel old, nothing will. What has happened in those intervening years, because of the pioneering work of Cecil Cook, (who wrote the first 19 years' worth), and the continuing passion of those GADOC stalwarts who took up the flag, is that the panto has become a much loved fixture in the Guernsey calendar – eagerly anticipated, and with a predictable rush to snap up tickets as soon as they go on sale each November.
The challenge every year for the panto team is to live up to the expectations of the Guernsey public and 'Dick Whittington' certainly did not disappoint.
This much-loved tale, having its fifth outing under the GADOC banner, was adapted by Philip Meeks, and his script kept the story moving briskly along, with lots of humour, romance and swashbuckling action along the way.
We were transported from a rat –infested 14th century London, on to the high seas and then to mysterious Morocco on a two-hour fun-filled journey, which passed by in a flash.
Judy Moore's direction, with the assistance of Joy le Page, ensured that there were no moments when children (or grown-ups) would get fidgety.The many musical numbers were handled expertly by Stephen Dixon and his 7-piece band, and the exciting and innovative choreography by Claire Cathcart and Jodie Hicks showcased some excellent dancing, particularly from the quartet of Ellie Hicks, Hannah Langlois, Jasmine Morgan and Alex Oliver.
Adorable panto babes stole the show as usual – choreographed by Karen and Olivia Thompson from KD Dance.
The colourful costumes were the result of hundreds of hours of work by a large team led by Cath Mayer and Joy le Page, and the sets were built by an equally large team led by Mike Lucas.
Special mention too for Keith Langlois' brilliant set painting, which brings flat pieces of wood and cloth to brilliant three-dimensional life.
And so to the cast.
Hats off firstly to Jodie Hicks as principal boy. Her characterisation conveyed all the hero's courage and strength, but also showed doubts and vulnerability when called for. All this and choreographing too! Principal girl Ivy Botzenhardt was charming as Alice, lovelorn but feisty as well. Her long suffering father was played by Pete le Lacheur, who has made a specialty of playing authority figures (Kings, Emperors, Aldermen and so on), and perfectly brings out the comedy of their ineptitude.
And talking of comedy – what a debut as Dame by Steve Ozanne! I know Steve was quite nervous about stepping into such a key panto role, but he came through brilliantly – well done Steve! And his equally hilarious sidekick in many of the routines, Idle Jack, was handled by young Alex Kaill with a maturity and confidence far beyond his tender years. Both these characters handled the daunting task of interacting directly with audiences as if they'd been doing it for years.
No panto is complete without the good and the bad forces appearing from stage right and left respectively. Lorna Burns, as a funky fairy Bow Bells, complete with silver shock wig and pink tights, wowed the audience with what I believe is known as Fortnite dancing and flossing, while Dave Hyett made a magnificently evil and snarling King Rat. His physical theatre skills were used to great effect, not only in the fight scenes he arranged, but also in the break-dancing routines he performed.
Captain Flotsam of the Naughty Nancy, and Stan Dupp, the first mate, were played by females – a bold departure from the norm – and one that worked so well that it was totally accepted by the audience. So much for gender stereotyping, then! Polished performances from Tannwen Morgan and Amy Stinton kept the action and humour flowing.
Jade Radwell as Maneeta, Sultana of Morocco, turned hilariously from an Eastern potentate into the landlady of the Queen Vic.And where would our hero be without his magical cat, Tommy? Abi Wallen handled the part beautifully – no lines to learn, Abi, but a lot of clever facial and physical expressions. Big saucer of creamy milk for you!
A large and mostly very young chorus brought all the big set piece numbers to vibrant and energetic life.
Many thanks to Judy and all the team (a glance at the programme reveals sixty-odd people behind the scenes – as well as the forty or so on the stage), for a great night (or afternoon) at the theatre.
Guernsey panto – 60 years young and looking in great shape – on to number 61. (Now who's directing that I wonder?)
Dennis Burns
---
Ladies in Lavender

Many people will be familiar with the story of 'Ladies in Lavender' from the large or small screen, as indeed, I was.  It was enjoyable and a vehicle for some of Britain's theatrical luminaries.   But I can't honestly say I was moved.
GADOC undertook to bring the stage version of the film to the theatre-going public of Guernsey.   To say it had the 'WOW !' factor would be a massive understatement.   It has been a long time since GADOC has put on a classy costume drama, something it was renowned for in 'the good old days' !    But I can honestly say I have not seen anything as splendid as this for a very long time.   It was amusing, poignant, subtle, underplayed, comedic, but above all, very moving.
Where to start ?   The set was quite breathtaking as it was built on three levels and featured five or six playing areas: a beach, a garden, a terrace, a bedroom, a living room, a hallway, and each was lit accordingly as the action moved from one to another.  It may sound from that description that it was quite disjointed but in fact it was just the opposite.  The whole play which covered a period of time moved seamlessly from one area to another with the actors giving just the right amount of time when they exited to go up or down the stairs off stage before they appeared in the bedroom or the hallway.  The linking music was mesmerizing and so appropriate for mood-setting.  The whole set was sumptuous, showing a pre-war house perched on the cliff above the Cornish coastline.
But it was the performances of the six actors which really moved me.  For those unfamiliar with the story it concerns two ageing sisters who find, after a storm, a young man washed up on the beach.  They bring him home, nurse him back to health, teach him to speak English, only to discover that he is a talented violinist.  The younger of the sisters finds emotions in her heart that she had never felt before, but in the end he was whisked away to a new life in the world of professional musicians, leaving the sisters bewildered and bereft. It is a lovely, but unlikely story, brought to life by six hugely talented people under the careful eye of an equally talented director.
The elder of the sisters, Janet Widdington, was played by Gillian Jackson.  She was down-to-earth and practical, underplaying her feelings for her younger sister, Ursula, played by Kath Prince.  The pair had many scenes together and as the story unfolded they learned many sides of the other they hadn't known before.  Ursula became more and more attracted to Andrea Marowski, the young musican, while Janet, wanting to support her sister, had to try and keep her feet on the ground but in a non-threatening and very subtle way.   The castaway was played with great charm and skill by Michael Sullivan showing total bemusement by the attention of the sisters but also bringing much needed humour to the situation.  His attempts to learn English were a case in point but his 'playing' of the violin was quite masterful.
The three other roles were perhaps less demanding but nevertheless essential and beautifully played.  Ann Atkinson played the rather dour housekeeper, Dorcas, but had a twinkle in her eye.  She had many humorous one-liners to emphasise a point or to subtly contradict her employers which caused much amusement in the audience.  The character who brought the whole story to its fitting climax was Olga Danilov played with great understatement by Stephanie Andrijasevic. An eastern European artist holidaying in the area, who, on hearing the playing of Andrea made herself known to him but caused great consternation among the sisters.  Completing the cast was John Murr who played the rather eccentric Dr Mead. While looking after Andrea he acquainted himself with Olga and obviously had more interest in her than just her health. His final eavesdropping scene on the beach watching Andrea playing his violin whilst Olga sketched him was a heartbreaking moment.
It is not often I write in such glowing terms about a cast but there was so much more that I would want to say.  Much of that would relate to unspoken moments, – a stern gesture, a glance of frustration, a look of yearning, the touch of a shoulder, silent confusion, the dropping of a head, a glare, a stare, and so much more.  These were not by accident but had been honed by this experienced cast countless times to give us an evening of pure theatre to remember for many a year.
Dennis Burns excelled himself with this production ably supported by many people behind the scenes, set designers, set builders, costume and hair specialists, lighting and sound technicians, and many more.   We can only hope that this play sets a new bar to which other directors and casts can hope to reach.
Bob Thompson
---
Moon Over Buffalo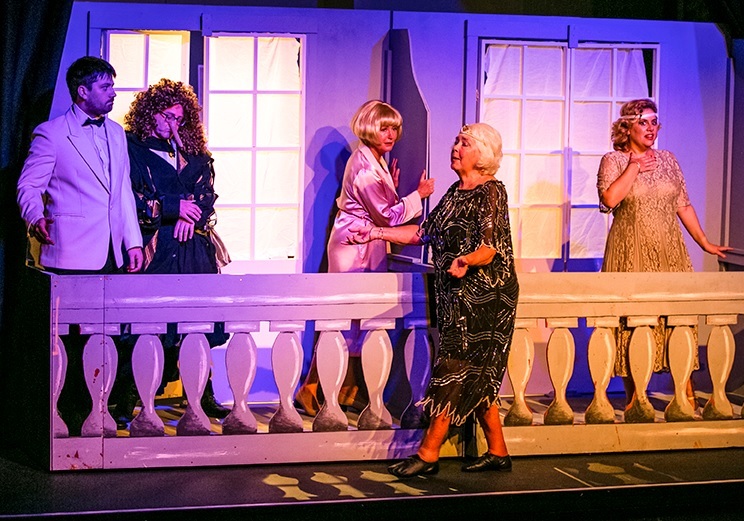 Arriving at the theatre not really knowing what to expect, I left two and a half hours later feeling I'd had a good night out.   Yes, I was agreeably surprised.
Now, why was that?  Possibly because the title meant nothing to me, although I had heard of Ken Ludwig before, and suspected that it would be an American comedy which wouldn't really translate to British audiences.  But it did and the cast and director pulled out all the stops to make the show a rip-roaring success.
The Foreword in the programme by Margaret Moffat and the Last Word written by our esteemed Chairman certainly helped to put me in the mood.  Having done about 35 summer seasons I knew exactly where this play was coming from.  A struggling rep. company trying to put on two plays alternately – Cyrano de Bergerac and Private Lives, whilst the private lives of the cast unraveled in spectacular fashion, and had the laughs coming thick and fast.
The set was uncomplicated as the backstage of a theatre, with several doors leading to the stage, dressing rooms, the street and green room, giving the cast ample opportunity to hone their skills of farcical comedy, generally timing their entrances and exits to perfection.  The final scenes of the actual play (s) the company was doing was set up with great skill.
There was not a weak link in the cast ably led by Neil Tayler and a very able newcomer Paula Kontelj, playing George and Charlotte, who played out their private lives as if it was all part of a play they were in.  One minute they were declaring undying love for each other and the next they were hurling abuse.  Unfaithful spouses, sparring lovers, unsuitable suitors, all played their part and the pace never slackened.
I must commend Neil who not only had command of the stage for much of the play but managed to perform a large part of it whilst being blotto.  Not easy but he managed it with great panache.
Susan Crossley managed the 'deaf' mother-in-law with hilarious effect and Lexi Goater also had some great moments of comedy.  Sandy Adams is certainly making his mark in GADOC plays moving from Shakespeare to farce quite seamlessly and Steve Molnar continues to give strong performances whatever he chooses to be in.
Very different to his usual roles, Dave Hyett played a rather sheepish suitor who came into his own in the final scene.  Making her debut in a straight play was Emily Andrijasevic who gave a most creditable performance as the rather naive dolly bird.  She certainly looked the part and managed to get her man in the end!   Much to the relief of George!
The audiences were good but low in numbers and I find that disappointing.  Those who came, like me, really enjoyed the performance.   I looked around the auditorium for GADOC members to have a chat with at the interval and sad to say there were very few. If you belong to a club like ours you really should be giving those who put on our plays every support. We are not just about musicals and pantomimes! I'll get off my soap-box now and just say again, very well done to everyone involved in 'Buffalo'.
Bob Thompson
---
Joseph and the Amazing Technicolor Dreamcoat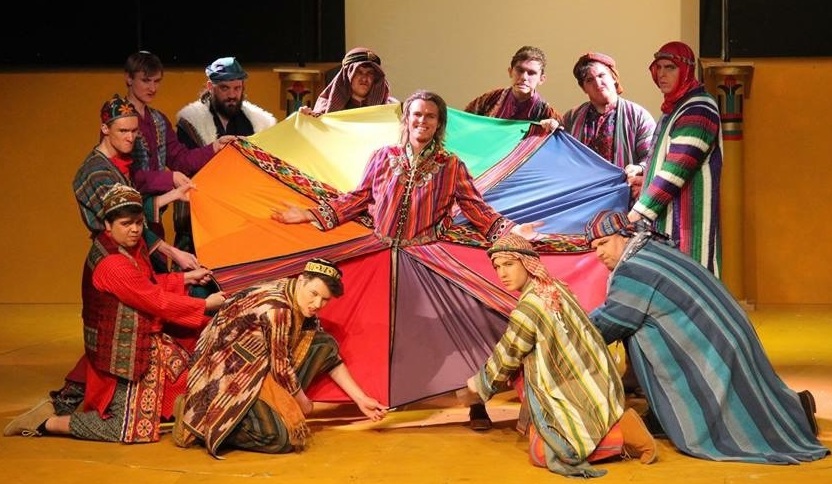 GADOC's Easter musical has become such a keenly anticipated event in Guernsey's entertainment calendar, that tickets sell faster than the proverbial hot cakes. Tickets for 'Joseph' were all gone by the end of January, leaving many islanders disappointed. Gratifying as this may be, it certainly puts a lot of pressure on the production team to make sure the show lives up to the Guernsey public's expectations – expectations which have been elevated considerably in recent years with productions of the calibre of 'Les Miserables'.
Not to worry though – in the safe hands of Lisa Johnston 'Joseph' turned out to be everything Guernsey hoped for and more. Lisa admitted that it was a challenging task to make such a familiar, well-loved and oft performed show something really different and special, but with the help of a top notch cast, and a brilliant production team, once again the theatre resounded to standing ovations every night.
It's hard to single out the most impressive aspect of such a production, but special mention must go to Dany Adams and her team's wonderful costumes, to Michelle Redhead making her choreographic debut with some stunning dance routines, and the whole team of set builders and painters who created the lands of Canaan and Egypt with such striking effectiveness. The lighting, as ever in Lisa's productions, complemented the set and costumes perfectly – while enhancing the many changes of pace and mood.
The music was provided by the superb Andrew Warren with a six piece band operating from the Saumarez Room, and all of the different genres of jazz, disco, country, calypso, tango, ballads and rock'n'roll contained in the show were delivered with polished perfection.
And so to the performances…
Well, the title role is a huge undertaking which has made stars of many performers in the past, and in Nat Eker GADOC had just the right man at just the right time. Well done young Nathanial, a perfect Joseph, you looked the part, and sounded the part. And congratulations on beating the dreaded virus to keep on giving top class performances right through to the end of a demanding nine shows.
Charlee Hales was equally outstanding in the role of Narrator, which underpins the entire show, and was the perfect complement to Nat.
And what a team of Brothers we had – all stars in their own right – and just perfect for their roles – take a bow boys, not only singing a storm, but nailing those fiendish dance routines as well – and yes, we know quite a few of you are not previously famous for your dancing skills, (mentioning no names !). 'Those Canaan Days' was an absolutely hilarious favourite of mine.
And the same goes for the wives, who as well as looking and sounding gorgeous, brought such energy and vitality to the stage in the dance routines.
Special mention too for Graham Dawson's Pharaoh – from Egypt via Tupelo, Mississippi – an unforgettable performance – newcomer John Murr as Jacob, and not forgetting refugee from the Dark Side, Harry Gabriel, debuting under the lights as Potiphar.
And what about the children's chorus? Simply captivating, those youngsters stole everybody's hearts each night with their professionalism and polish, testament to many months of hard work and rehearsal, and the expert help of Tom Cheshire and the soon-to-be Mrs Cheshire, Katey de Menezes. We were looking at GADOC's future right there every night.
Massive congratulations to everyone involved in bringing this show to the stage – I know only too well that extreme technical problems completely outside GADOC's control meant that the final rehearsal week in Beau Sejour theatre was a nightmare for the entire production team, but particularly the director, stage manager and musical director.
Well done Lucy Smith and Andrew Warren, and take a bow Lisa Johnston – once again you've done GADOC and Guernsey proud!
Dennis Burns
---
Alice in Wonderland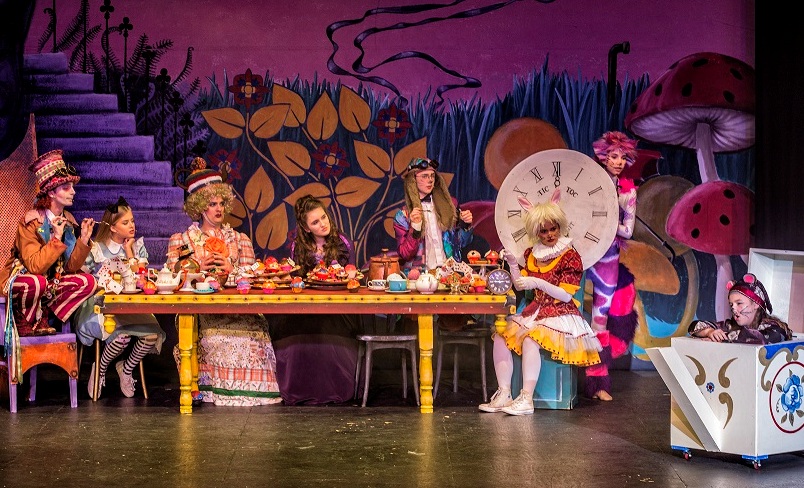 Lewis Carroll's imaginative 19th century fantasy has been a favourite with children (and indeed adults) ever since it was written more than 150 years ago, and has given rise to several stage and film interpretations. It is perhaps surprising that it has been largely overlooked by pantomime writers and directors, as the original story contains so many unforgettable characters who lend themselves to all the elements of pantomime.
Jenny and Colin Falla's production used a script by Susan Mosley (with added local references), that had Alice, her sister Lorinda, and mother Flora Dora following the White Rabbit down the rabbit hole into Wonderland, where they met many of the unforgettable inhabitants of that fantasy world, culminating in a last minute escape from execution at the hands of the deranged Queen of Hearts, and a return home together with Jack of Spades, Henry his sidekick and a lovestruck Judge. Their obligatory triple wedding brought the show to a joyous ending.
Full houses every night were delighted by the colour and spectacle that the production team had brought to the stage. Jenny Falla had decided on a Steampunk theme for the costumes and design of the show, and this was brilliantly maintained throughout – the lighting and scenery perfectly complementing the science-fantasy feel of the piece.
Packed with high-energy music and dance routines, which used every available inch of stage, and indeed much of the auditorium, the show literally surrounded the audience with larger than life wacky and surreal characters , not least an 8 foot high Jabberwocky , complete with flashing red eyes.
Stephen Dixon and his orchestra produced their usual impeccable sound, and Stephen once again provided much original music and specially written lyrics.
Too many brilliant individual performances to mention them all, but highlights included Grace Kelly and Emily Andrijasevic as Alice and Lorinda, typical teenage sisters, who even managed to argue over borrowed shoes while facing imminent execution. Dave King as the man- hungry Flora Dora maintained high energy and superb comic timing throughout and his (her?) costumes were a joy to behold. Stephanie Andrijasevic and Pete le Lacheur were hilarious as the barking mad Queen and her long suffering husband and young Toby Giles and Pieter Durman showed maturity beyond their years in maintaining the key roles of Tweedledum and Tweedledee, which entailed a good deal of interaction with the audience.
Haygan McDaid was delightfully zany as the Mad Hatter, and was ably assisted by Alex Kaill, Rachel McDougall, Dominique Mayer and Jasmine Morgan as equally convincing March Hare, White Rabbit, Dormouse and Cheshire Cat respectively
Scott Riseborough and Matthieu Mayer made handsome and charming suitors for Alice and Lorinda. A large cast of supporting characters, chorus and dancers kept the energy and fast pace of the show buzzing throughout, which is a great tribute to the director and choreographers. And what panto would be complete without the delightful panto babes, and these tiny ones effortlessly stole every scene they were in.
An unforgettable version of 'Is this the way to Amarillo?' scaled the heights of barmy choreography and costumes, while Sam Ashcroft's transformation from caterpillar to butterfly will live long in the memory, as will the beautiful effect created by filling the stage and auditorium with gauzy butterflies to close the first act.
What was also very apparent was that the entire cast seemed to be having just as much fun each night as their audiences, even though I know many of them were struggling with the dreaded lurgi that invades most pantos. A sign of a happy company – again full credit to Jenny and her team for making rehearsals and performances such fun to be part of.
Happy customers leaving the theatre with smiles on their faces and glowing praise is what we love to see in GADOC, and 'Alice' certainly achieved that in spades. (and Hearts and – well you know what I mean).
Thank you Jenny, and all your cast and your team backstage and front of house for an unforgettable trip to Wonderland.
Dennis Burns
---
One Man, Two Guvnors

'I laughed until I cried' was the sentence I heard most as patrons left the theatre last week. We all agreed that it was the funniest play we had seen in a very long time and I would go so far as to say that I enjoyed GADOC's 'take on it' more than I had enjoyed the play in the West End when the lead was taken by James Corden!
As Bob Thompson said to me, the play in rehearsal was not without its ups and downs but the finished production was superb with so many brilliant performances. Again, as Bob had said to me, it was a stellar cast and it would be invidious to single out individuals but David Foote was splendid in the lead, his Dad, George, would have been so very proud! Dave Hyett was an example of great comedy timing and many audience members sympathised with the bruises that he must have sustained during the week! Every cast member rose to the challenge and gave of their best – there was not a weak link or a weak moment.
Backstage was a great challenge too with so many props, scene changes etc to be managed but every performance was almost seamless; if there were problems backstage then we in the audience were not aware of them. I must pay tribute to the set for Keith Langlois did a brilliant job in capturing the look of Brighton on the stage. Thank you, Keith, for all your many hours of hard work for GADOC.
I want also to pay tribute to the band, the skiffle group was so engaging, taking us back to the 60s and keeping everyone entertained during the scene changes. Well done, you young lads and the older one amongst you!
Congratulations to Chris, Dennis and Bob for the direction and production, no easy feat, but, despite many difficulties, you achieved great things!
In its 90th year GADOC has staged another brilliant production!
Barbara Minta
---
Musical Encore!

When asked to write a few lines on 'Musical Encore' I did wonder where on earth I would start.   So I decided to start at the end !   As a steward I heard lots of comments from members of the audience as they left, many of whom said they were 'blown away !'   'Fantastic', 'tremendous', 'what talent !', truly amazing', 'awesome', 'good enough for the West End', were just a few.
So what was it that was so magical about a concert, the intent of which was to take us on a trip down memory lane ?  There was no story line, no extravagant sets, clever lighting or sound effects, and some of the songs were over 50 years old.   And yet it all came together in such a way as to leave us breathless in admiration.
It must have taken many hours of planning and discussion once it had been decided to celebrate GADOC's 90th anniversary in song.   Which Musicals to choose ?  Which songs to sing ? How could the show run smoothly ? How could the sets be minimal ?  All these questions were answered positively and casting, rehearsals, set building and costume making could begin.  It was apparent that good teamwork was essential.
And so to the Show itself.  There was such a variety of music from the 1950s to the present day.  It may be hard for youngsters to understand the appeal of songs from 'Oklahoma' and 'Calamity Jane' and yet such musicals received rave reviews just like those in recent years have.  But the difference today is the musical talent we have at our disposal.  In the 'old days' I don't recall auditions.  If you wanted to be in a show you were in !  We had a few superstars such as Hazel Rowe and Peter Carre plus several good singers to lead the ensembles, but today even those in the back row of the chorus are handpicked.   Indeed it has been said that almost everyone on stage for 'Les Miserables' was a fine soloist in their own right.
And this could be said for 'Musical Encore'.  The singing was exceptional and beautifully arranged by MD Simon Ricketts.  Added to this we had sumptuous costumes masterminded by Dany Adams and superb choreorgraphy undertaken by Steph Jehan and Michelle Redhead.  The sets morphed effortlessly from show to show, cleverly organised by Lucy Smith and her team.
It would be churlish to single out soloists as they were all so good.  Likewise choosing my favourite show.  All had their merits and everyone would have a different favourite.   Suffice to say there was something for everyone to enjoy, from the young people relishing their parts in 'Annie' and 'Oliver' to the old hit shows like 'South Pacific' and 'Singin' in the Rain', to the sophistication of 'Rent' and 'Les Miserables'.  Each number was rendered with enthusiasm and,  dare I say, musical perfection.
However special mention must be made for the comedy duo of Dennis Burns and Mick Prince who filled any gaps with hilarious banter interspersed with a little of the history behind some of the shows.  And they also managed to fit in a couple of highly entertaining duets from 'Underneath the Arches' and 'High Society'.
All in all it was not surprising that audiences came out thrilled by what they had experienced.  A clever show, beautifully put together and directed by the very talented Lisa Johnston.  Thank you Lisa, you have done GADOC proud.
Bob Thompson
---
Chitty Chitty Bang Bang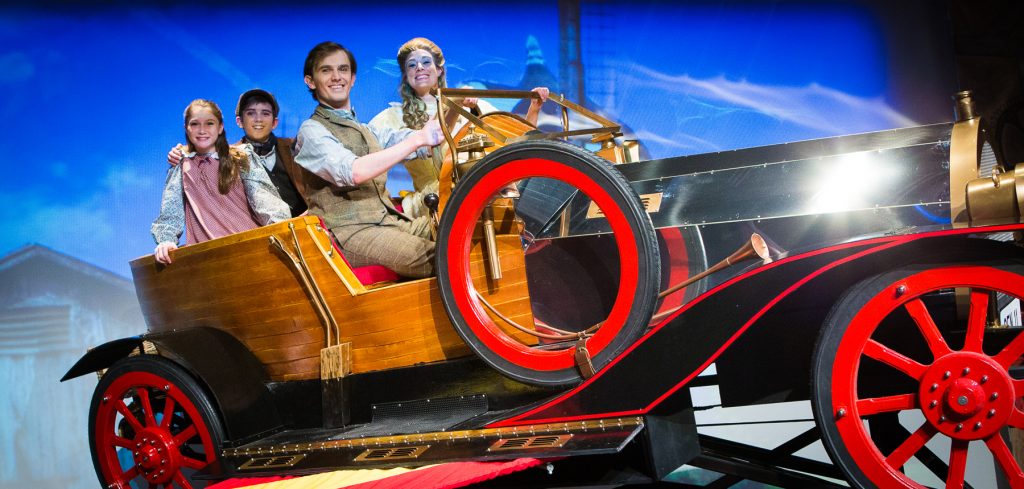 I hope the brilliant cast of this outstanding show don't take offence when I say they were upstaged by a car! When this fabulous motor first appeared on stage it rightly got a round of applause, when it 'floated' there were lots of oohs and aahs, but when it 'flew' there were cheers and I know many were moved to tears, both during the show and again in the finale. The beautiful lines and colours were a joy to the eye and many congratulations must go to all involved in putting this masterpiece together, especially James and Stuart who designed and built it supported by 'the car crew'.
I will not dwell on the unfortunate mishap that happened to our leading man. Suffice to say that the understudies played their parts brilliantly and thankfully Matt was on stage again a couple of nights later. It shows the commitment of all involved and just how well organised this production was.
But let me move quickly on to the show. Unusually I will congratulate the crew first as they were quite splendid, moving from scene to scene quite seamlessly with the minimum of fuss, and the creations that appeared from Caractacus Potts' workshop were a wonder to behold. So to Lucy, Simon, Fleur, Steph, Dany and all their team, many, many thanks for making it possible for the actors to do their stuff on stage with barely a hitch.
As ever in Lisa's musicals, the cast rose to the occasion and wowed every audience with their infectious enthusiasm. There is not room to mention everyone but special accolades must go to the leading characters. Matt Judge gave us a charmingly understated, modest Caractacus Potts and he was well matched by the beautiful Martine Wallbridge playing Truly Scrumptious. Their interplay and superb singing was quite memorable. But they were equally matched by the two children played by Poppy Cochrane and Joe Andrijasevic who performed beyond their years, having much to do – singing, dancing and acting like hardened troupers. GADOC's future is surely in safe hands.
Broad comedy was supplied in spades. Josh Gabriel and Tom Cheshire did not miss a trick as the inept 'spies' and Tim Langlois and Michelle Redhead managed to get a laugh from almost every line as the preposterous Baron and Baroness. A favourite of everyone was David Foote playing Grandpa, timing his one-liners to perfection. Many people remarked just how much he emulated his Dad, George, who was one of GADOC's best comedy stars of the last few decades.
Nat Eker as the Child Catcher appeared only briefly but certainly made the most of his character having enough menace to get the audience hissing and booing very quickly.
One man managed to get his name on the cast list no less than three times, but the characters played by Dennis Burns all needed a different twist and were played so well. He may be the 'resident geriatric' but we couldn't manage without him.
The big production numbers were sung and danced by a superb ensemble and the whole production looked as if it was such fun to be in. Although we didn't see the orchestra, Andrew Warren led a cracking set of musicians. The colour and variety of costumes, the exhausting choreography, the innovative moving backdrops, the zany inventions, and sheer joy put over by the whole cast had the audience leaving the theatre with smiles on their faces and humming the tunes, chatting to each other about how wonderful it had all been.
For a show that celebrates its 50th anniversary next year it seems timeless – and in the hands of someone like Lisa Johnston is made to be quite magical.
Bob Thompson
---
Aladdin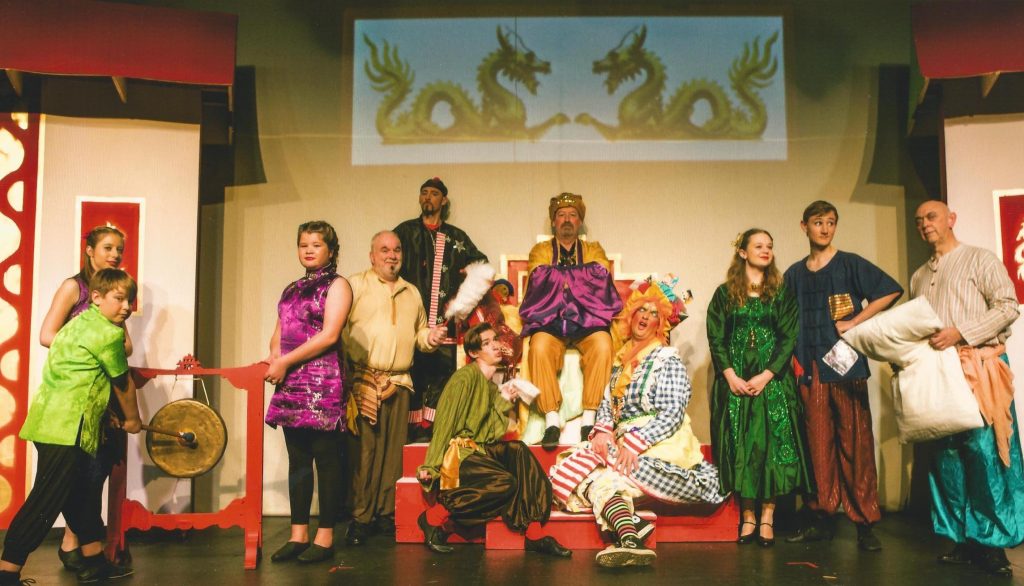 For most of us, Christmas isn't Christmas without a trip to the theatre. Once again, GADOC have staged a fantastic pantomime for all to enjoy, brought to us by Judy Moore and her fabulous team. From the moment the band started playing under the guidance of Stephen Dixon (MD) and the curtains opened to a vibrant set that transported us back to old Peking, you could sense we were in for a good night.
It would not be fair to mention the many stand out performances we all enjoyed as to be honest, it was so lovely to see every single person on stage – without exception – thoroughly committed to everything they were doing. The dance numbers were energetic and well-rehearsed thanks to a dedicated team of choreographers, Brian and Catherine Webster, Claire Cathcart and Stephanie Jehan. The dialogue was secure as we were treated to some great characterisations throughout. Costumes were bright and colourful, and the vocals that hit the back of the theatre were confident, full of harmonies and a joy to listen to.
As always, it's the team behind the scenes that makes the magic happen. It's never easy to get a crew together for such a big commitment over Christmas and New Year, but Sol Phillips (SM) did just that. Our thanks to every one of you who built the set, sourced props, painted scenery, etc., and then crewed your way through the festive period. So lovely to see some new names on-board this year – we very much hope you will come back for more fun on the 'dark side' in future productions.
A special mention must go to Sarah Hicks too, who I know provided Judy, the team and the production generally with endless support throughout.
Finally, congratulations to Judy for pulling it all together. No easy task with so many components, so many plates to keep spinning, but you did a grand job Judy. A big thank you from GADOC and Guernsey to you and the entire team for bringing some magic to the stage this Christmas.
Lisa
---
Macbeth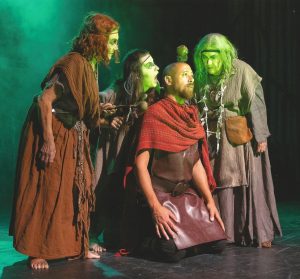 GADOC is most fortunate to have a director who is so passionate about performing live Shakespearean plays. In recent years Gillian Jackson has brought us ''Twelfth Night' and 'A Midsummer Night's Dream' as well as writing and directing 'Sea Change' her own sequel to 'The Tempest'. But surely, Macbeth has been the most demanding but she has lost none of her touch. Surrounding herself with a starlit cast and a crew that is second to none, the play had passion, pace and quite breathless drama towards the end.
The set was the same throughout and yet with clever lighting, each scene looked so different. It needed the minimum of imagination on the audiences' part to move from the heath with the witches to the interior of the Castle. And the fact that there was a split level for the action to take place, the interest in what was happening never faltered for a moment.
A play as demanding as this obviously needs consummate actors to carry it off. Andy Hislop playing the title role excelled, portraying both the guile, reluctance and torment with exquisite timing and passion. His nemesis, Lady M. played by Stephanie Andrijasevic, was beautifully drawn, insisting that her husband succeeds, whatever the cost. The atmosphere when Steph and Andy were alone on the stage was electric, and one could almost 'feel' the evil in their schemes.
But such a play needs a massive supporting cast and there isn't space here to mention them all in detail, but all played their parts with a real sense of purpose and it was easy to both sympathise and empathise with them. How original of Gillian to cast two Thanes as females played well by Linda Howell and Janet Unitt. Newcomer Sandy Adams also excelled as the doomed Banquo. Stalwarts of GADOC, Dave Hyett, David Foote, Matt Judge, Ashley Ellis, Gaby Le Couteur, Pete Le Lacheur, and Pauline Bisson all helped the plot to move along with pace and managed to heighten the tension when it was required. Michael Sullivan proved that he was as comfortable with a dramatic role as well as a musical one, and managed to maintain a good Scottish accent throughout as the tormented Macduff. His family, played by Martine Wallbridge and children Josh and Grace Ogier, were only on stage for a few minutes but what a few minutes ! Absolutely heart-wrenching ! Young Pieter Durman did well playing dual roles but it was left to an old hand, Dennis Burns, to bring a much needed piece of light relief with his comic playing of the porter.
It is not often GADOC puts on a production with the likes of Ann Atkinson, Kath Prince and Lydia Pugh playing minor roles, but this was inspired casting. The roles of the three witches was never in better hands with their dreaded prophecies affecting not only the main characters but the audience as well.
Set in the late Celtic period gave great scope for those responsible for costumes (and some striking tattoos) and thanks must go to the team 'behind the scenes'.
All in all it was an ambitious production and it was interesting to note that audiences increased in numbers night by night – and rightly so. A splendid play performed with skill and passion and directed by a luminary GADOC and Guernsey is fortunate to have.
Bob Thompson
---
 Jeeves and Wooster in Perfect Nonsense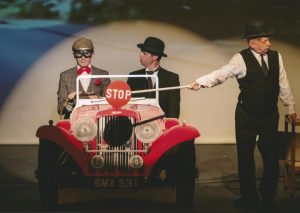 Having just re-read my review of last summer's The 39 Steps, I cannot help thinking that there will be a touch of deja-vu when I write this one. Both were directed by Dennis Burns, both had minimal casts playing multiple roles, and both were fiendishly difficult to do and pull off.
Last year 4 protagonists played numerous parts, frantically changing costumes and gender, but keeping an implausible storyline moving swiftly along. This year there were only three players doing similar things ably assisted by a revolving stage to make things easier – or perhaps more complicated?
But what a delight it was to watch. Matt Judge, playing Bertie Wooster and on stage for virtually the whole play with several costume changes, had the audience eating out of his hand from the start. He managed to maintain the foppish accent throughout and used pauses and double-takes to great effect. As the narrator of his own story he kept things moving along but as he introduced new characters to his tale, the other actors certainly had their work cut out, at one stage one of them playing two roles simultaneously.
Stephen Rouxel, not only played Jeeves impeccably, suave to the end and never in a hurry. But when he had to become another player he could appear manic, loud, overbearing as well as, in the female roles, charming, sultry and seductive. When I tell you that he played a magistrate Sir Watkyn Bassett, his daughter Madeline Basset, Gussie Fink-Nottle betrothed to Madeline, and Stephanie 'Stiffy' Byng, Sir Watkyn's niece, you will start to get the idea. Stephen did not miss a trick.
The third cast member was Michael Sproule, even excelling his tour de force from last summer. He too had to play numerous roles requiring swift costume changes and not least a lot of ingenuity. His roles included Seppings, the butler to Mrs Dahlia Travers, whom he also played, Butterfield the butler to Sir Watkyn, an antique shop proprietor, Constable Oates, and on top of all that he was given the responsibility to work the Revolve by cycling with great effort, ensuring the whole stage moved round 180 degrees. This was only used twice but to great effect.
This was a fast-moving, slick production leaving the audience gasping with amazement at the sheer audacity as to how it all came together. But one cannot forget the backstage team who were just as talented as our actors, and although we never once saw them, they were responsible for a brilliant set, moved on and off entirely by the actors, ensuring the right costumes, wigs, props etc, were in the right place at the right time, and for the sound and lighting including the back projection of a car journey. So hats off to the team, ably led by Simon and Fleur Rowe with Lorna Burns, Judy Moore, Sol Phillips, Pauline Telford and countless others, all of whom helped to give a wonderful night at the theatre leaving the audience chuckling all the way home. Thanks Dennis, you pulled it off again! Maybe a two-hander next year??
Bob Thompson
---
Les Misérables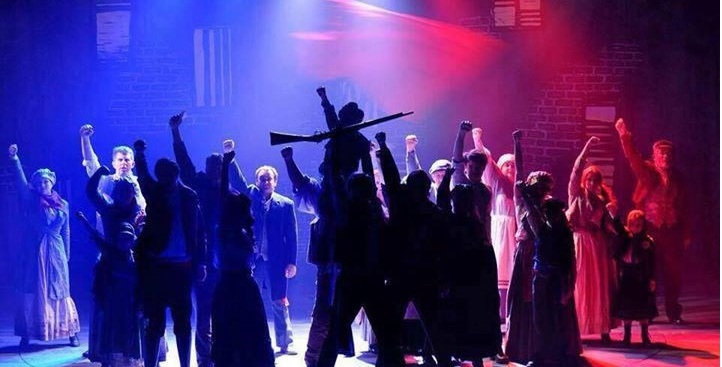 What more is there to say? After two exhausting, exhilarating weeks, can there be any more superlatives to lavish on this astounding production. Having been lucky enough to see the dress rehearsal and have tickets for the final night I was truly amazed just how the voices held up and were just as good, if not better, at the end than at the beginning. Of all the shows one sees it is rare to be able to say that one could not spot a weakness or flaw in any aspect of it.
It looked terrific, – the sets being so clever with the change of scenes being seamless – the action and music continuing as silent dark figures in the background moved what seemed to be massive props quite effortlessly into place – congratulations to Lucy Smith for stage managing this production. It is hard to imagine how the crew managed to learn to work the Revolve so quickly – what an asset this is going to be for the Club!
It must also be said that all the cast looked amazing – the costumes in every scene being quite right for the period. It is obvious that the research into this had been meticulous. And the fact that most of the ensemble had several parts to play must have meant numerous costume changes – but no-one was ever late on stage and each scene looked spot on. We are so fortunate to have someone like Dany to mastermind all this – supervising her team of stitchers with the eye of a true professional.
It is hard to start making comments on the lead singers as all were superb, from the youngest to the oldest. To have the talent to make each audience laugh, gasp, and be so totally involved that so many have been moved to tears, must mean that we have in our Club some quite amazing people. A special mention must be made of Lydia as Fantine, Charlee as Eponine, Michelle as Cosette, Andy as Javert, Nat as Marius, and Ashley as Enjolras and of course the magnificent Michael as Jean Valjean, who all grew in stature as the days progressed all realising that this was something very special, the like of which will probably never be seen again in Guernsey. But all the performers shone like stars. Mention must also be made of Tim and Ali providing brilliant light relief midst all the angst and passion, and also all the youngsters who gave of their best every night until the audiences were running out of tissues.
How lucky the Club is to have Lisa and the two Simons working together to create such a masterpiece. Simon Ricketts as MD honed the singers into doing things they never believed possible, ably supported by Lydia and Laura as vocal coaches. He also managed a superb 16 piece orchestra, masterfully played outside the theatre, much to the astonishment of many in the audience. One must also mention the Beau Sejour technicians who handled the sound and lighting with such a deft touch, and they left nothing to chance.
The second Simon (Rowe) also needs congratulations for producing a set that had to be seen to be believed. After long deliberations as to just how the show was to be staged Simon came up with a plan as masterful and as ambitious as it could be. And the audiences were blown away by it all.
But the final plaudit must go to Lisa, who seemed so relaxed through it all – from the auditions to the final night. She is quite a lady. To believe, three years ago that she could do it, and to build a team and cast around her who she knew would fulfil her dream shows just what a special person she is. It was apparent on the last night just how much love and respect she had from both sides of the curtain and proving that she had made theatrical history.
So congrats to everyone involved – the cast, crew, production team, orchestra, plus countless others who helped to make this the best production GADOC has ever put on. Thank you all so much for taking us right into the heart of the West End with such style.
Bob Thompson
---
Treasure Island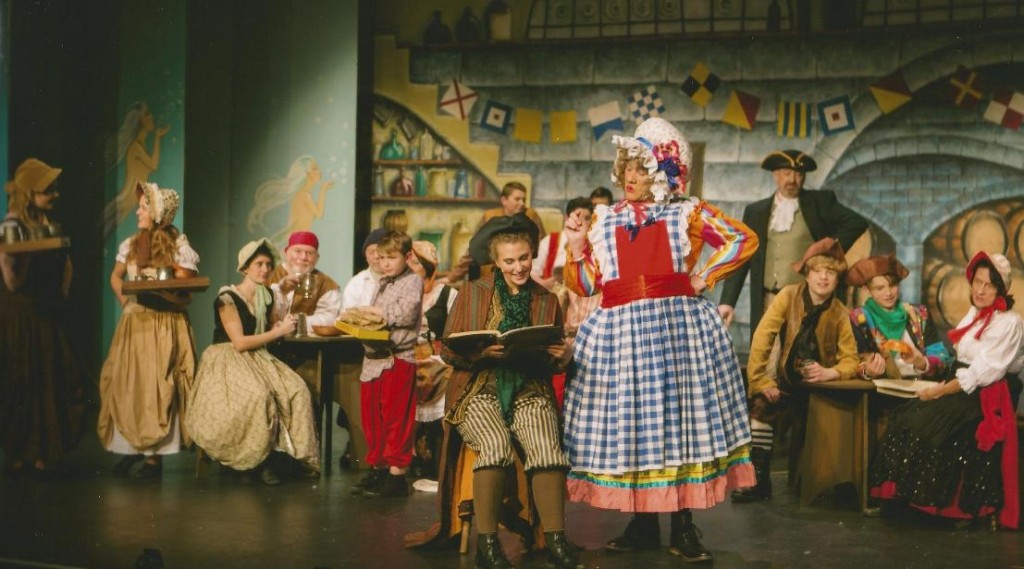 Wow! What a great couple of weeks at Beau Sejour – thirteen performances of Treasure Island and only twenty nine single seats unsold for the whole of the run – an attendance of 99.5%!
Warmest congratulations and thanks go to all members of the cast, stage crew and orchestra, to the choreographers, the costume ladies, chaperones, scenic painters and designers and construction people for the great enjoyment which they gave to the people of Guernsey over the festive period. There was something in the Show to appeal to everyone – from the oohs and aahs for the 'panto babes' to the scary monsters and skeletons, the physical antics of the fights and the lovely dancing and beautiful singing.
The cast was, on the whole, made up of young people and they put their hearts and souls into every performance. Their energy, enthusiasm and obvious enjoyment were amazing and it was great to see Dennis Burns back on stage as the Dame!
GADOC's very sincere thanks and congratulations go to Jenny Falla as Director and her husband, Colin, Stage Manager, for creating such a very happy show which gave enormous pleasure to everyone, both on and off-stage!
Barbara Minta
---
A Murder is Announced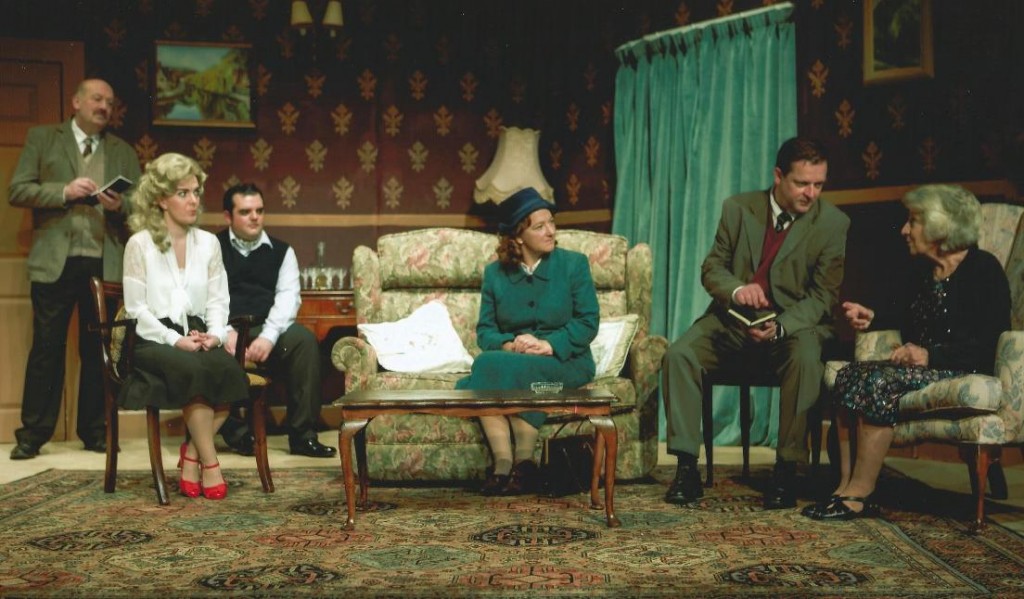 There might be a few people who rolled their eyes when they found out that GADOC was putting on an Agatha Christie thriller. But equally there must have been more than a few, judging by the large audience figures we had, who were delighted that at last GADOC is going down a traditional road putting on a clever whodunnit that keeps us guessing right to the end.
This production did not disappoint. With a large cast of experienced and less familiar faces, Judy Moore managed to build up the tension, offer us lots of red herrings, surprise everyone with character switches and challenged us to work out just who was behind the murder right up to the last five minutes. With, of course, a little help from Agatha Christie. And I would surmise not many of us got it right.
The set, which received a round of applause when the lights came up on a typical 1950s drawing room of a rather grand house spread across the whole width of the stage. The cast of twelve used the space well and kept the pace up throughout, giving us believable characters with whom we could identify and sympathise. The leading roles were beautifully played, particularly Kath Prince as Letitia Blacklock who played her massive part with her usual elegance and style and Micky Nicolle as the eccentric 'Bunny' and of course, Gillian Jackson as the indefatigable Miss Marple who managed in her own subtle way to both support and at times outwit Inspector Craddock. This was a clever performance by David Foote who had just the right amount of gravitas with a touch of humour here and there. And they were very well supported by the rest of the cast. Many caught the eye, particularly Simone Kelham playing a paranoid eastern European maid, crucial to the denouement, but giving us a lot of fun throughout.
Reviews seldom mention those behind the scenes, but their input is not only to support the director and cast but to ensure the whole thing runs without a hitch, with scene changes, props, lighting and sound effects, making a seamless, smooth production. And this they achieved in an unobtrusive way which is surely the accolade every production team must hope for.
So well done to all concerned. Another enjoyable evening of theatre which GADOC's audiences have come to expect. Our standard remains high and bodes well for the future.
Bob Thompson
Sister Act – The Musical
When discussing the Programme for GADOC's Summer Season of 2015, Lisa put to the committee the suggestion of a smallish scale musical which she thought might have appeal for a summer audience. The committee accepted it happily but 'Sister Act' was certainly not a small scale musical and it had enormous appeal for our audiences, so much so that all performances were a 'sell-out' two weeks before the show started and there was at Beau Sejour Box Office a waiting list of over three hundred people hoping for returns!
I last saw 'Sister Act' a couple of years ago on Broadway and I was not overly impressed or thrilled by it but GADOC's production just 'blew me away'! I loved every minute of it.
Simon Ricketts and his band were first rate, a lovely sound with such sympathetic accompaniment to all the singers. I know Simon worked very hard throughout rehearsals to get the singing the way he wanted it – sometimes very un-tuneful on purpose but mostly making a glorious sound! He is such a great asset to our musical team! Emma Hodge and her backstage crew were most professional with all scene changes taking place seamlessly, and Simon Rowe and his team of set builders did a great job; they managed to convey the peace and reverence of the convent with some glorious effects. Speaking of effects, the lighting and sound were handled beautifully by the Beau Sejour team. Costumes made under the guidance of Dany Adams helped enhance the performances of the actors and there were some glorious moments when costumes changed or were augmented in the twinkling of an eye which amazed and impressed members of the audience. Steph Jehan's choreography was fun and hugely enjoyable but never irreverent. As for the cast, they were all superb – it is invidious to single out any one person for they all gave terrific performances, but special congratulations must go to Pauline Telford as Mother Superior in her first major singing role, Tasha Cotran, Ali Coubrough-Barnett and Susan Crossley as the three main Sister roles and I just loved the antics of the 'three stooges', they made me laugh every time they came on stage. As for Deloris, words cannot convey the huge talent of Charlee Hales. She richly deserved the enormous adulation and praise from the audience and everyone merited the almost total standing ovation that the Show received on the last night.
Everyone went home with a smile on their faces and joy in their hearts!
Warmest congratulations and thanks to you Lisa, for another wonderful show! Now bring on 'Les Misérables!'
(If you were unable to get tickets for 'Sister Act' now you know what you missed so make sure you book early next time!)
Barbara Minta
The 39 Steps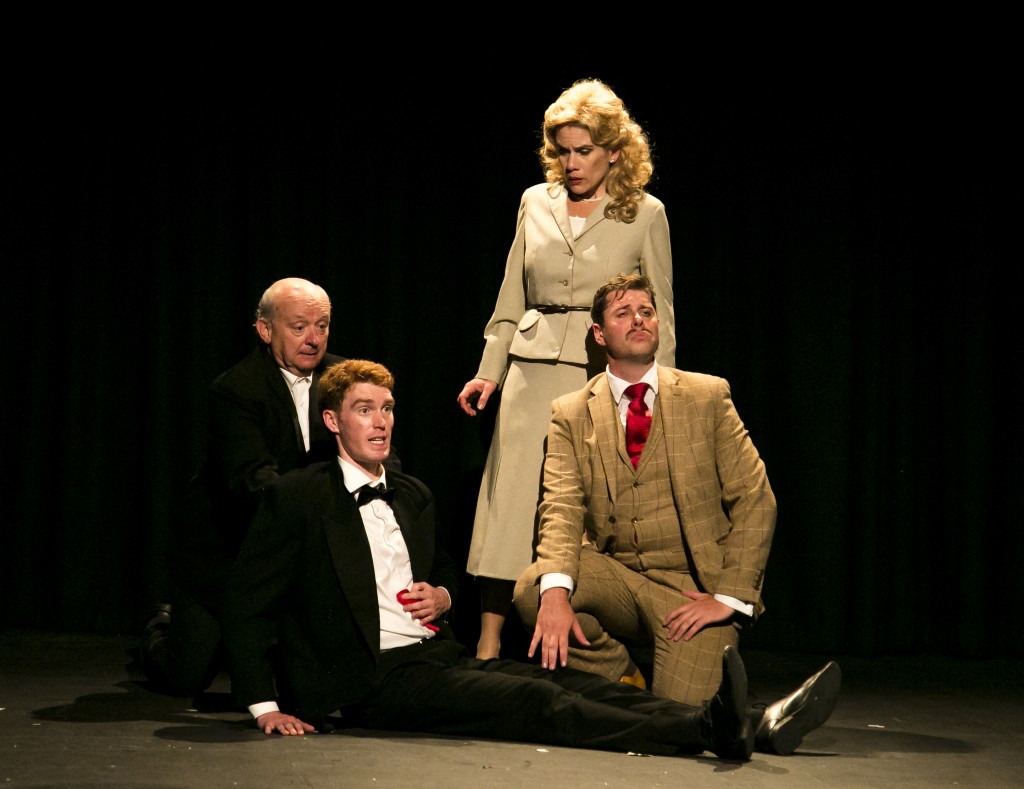 I think it is fair to say that not everyone coming to see GADOC's first Summer Season offering quite knew what to expect. The title may have triggered a vague memory of a John Buchan thriller read in teenage years or a Hitchcock movie of old, maybe seen on the TCM channel, starring Robert Donat playing the intrepid hero Richard Hannay. Any knowledge at all would be of a complex plot, moving from a murder in a flat in London, to a frightening train journey on the Flying Scotsman, a climb on the Forth Bridge, to a croft on the moors, a large house in Scotland, a chase across the heather, negotiating rivers and waterfalls, pursued by the police and an enemy bi-plane and ending up at The London Palladium. On picking up a programme at the theatre one sees that there is a cast of FOUR, is there any wonder that one could only be in a state of bemusement to say the very least.
But that was the challenge taken on by Director Dennis Burns. This was a spoof on the film version and the plot remained exactly the same but the skilled actors managed to portray all the characters involved with some ingenious staging, moving the story along at a hectic pace. Stephen Rouxel as Hannay was on stage the whole of the time, fighting off assassins, falling in and out of love, being chased by the police, and determined to foil the secret agents and save the country! Stephanie Andrijasevic played the murdered spy, Annabella and the reluctant lady-friend, Pamela, as well as the crofter's wife Margaret McTyte, yearning for love. Stephanie and Steve were perfect foils for each other, both giving as much as they got, and making us smile all the time at the sheer ingenuity and outrageousness of their roles. But that still left around another 30 characters to find!
With inspired casting Michael Sproule and Ethan Hitchon managed every one of them with panache and style, changing costumes, props, and accents at the drop of a hat – of which there were many!! Although it listed them as the two clowns in the programme they were much more than that. They were spies, policemen, a crofter, a milkman, a Scottish laird and his wife, two very credible Music Hall turns, two underwear salesmen, a newsvendor, a station guard, a police inspector, to mention but a few. The energy they found to fulfil all these roles left one quite breathless but the laughs they produced from beginning to end with slapstick routines, comic turns and immaculate timing, justly rewarded them for their brilliant efforts.
Although one never saw a single member of the crew, it was apparent that there must have been a very clued up team in the wings and in the sound and light boxes supporting the cast so that the timing of everything was just right and on the final night they were invited to come and take a well-earned bow to rapturous applause. There were over a dozen of them, and there is no doubt they had to work just as hard as the actors on stage. Congratulations must go to Dennis and a fantastic team effort – a brilliant evening's theatre.
Bob Thompson
Shrek: The Musical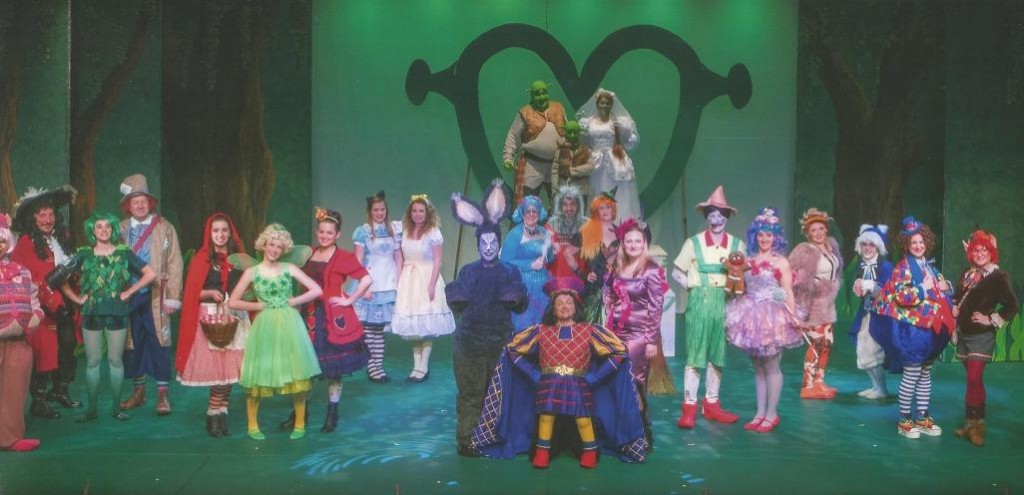 Wow! What an amazing Show!!
Lisa, you have done it again – pulled out all the stops, raised the bar even higher and given us a Show to love and to remember! In the words of one of our longest – standing members the performance of SHREK 'made one very proud to be a member of GADOC.' He does not give praise lightly!
It is impossible to single out any one person or section of the Team, indeed it would be invidious so to do for everything was so professional – stage crew and set with some lovely special effects such as the exploding bird, excellent lighting and sound, wonderful costumes and make-up, brilliant orchestra, led by Rickey Long and Simon Ricketts, delightful choreography and amazing characterisations by all the cast. There was not a weak one amongst you all! I feel, however, that I should thank and applaud publicly Matt Judge and Rhys Ashcroft for stepping into the breach following Ashley Ellis' (Pinocchio) accident which resulted in a very painful knee dislocation. These two young men took over roles with less than sixty minutes' rehearsal. Well done to you both and thank you for saving the Show! Sincere commiserations to Ashley – I hope your knee is improving!
Well done, Lisa, it was a brilliant Show, so professional one could have been forgiven for thinking one was watching a London stage production. I know it was a very happy Show and this feeling of pure joy came across so well and uplifted all members of the audience.
Bring on Les Miserables in 2016!
Barbara Minta
 The 66th Guernsey One Act Play Festival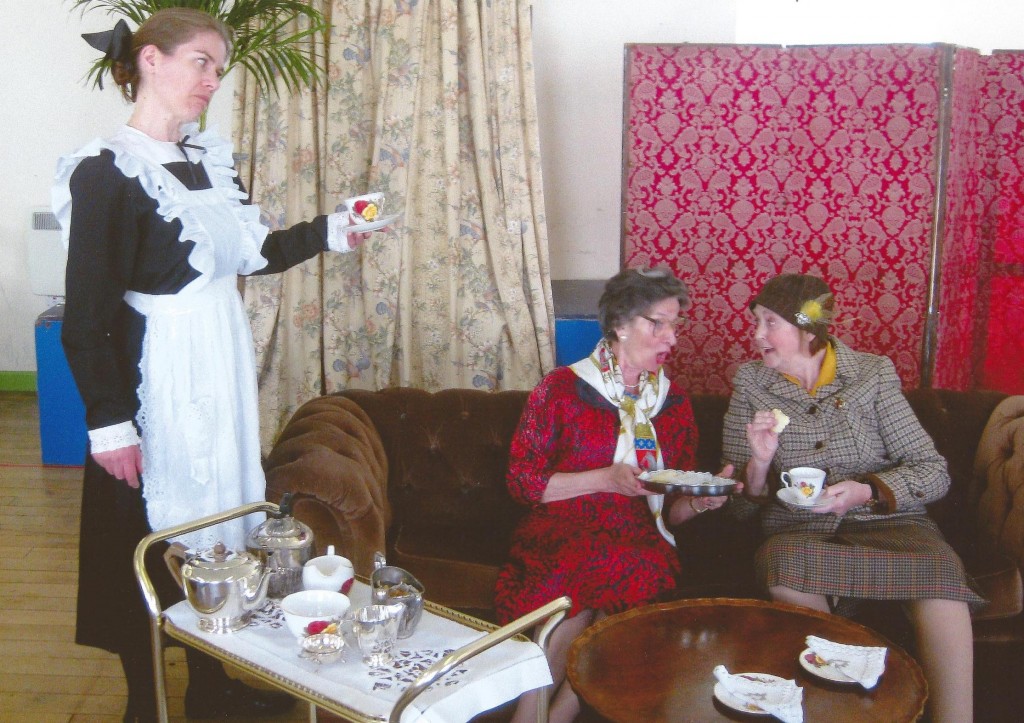 The recent One Act Play Festival was a great success and attracted nine entries of very diverse plays, including one from Alderney. Over the three nights of the festival the audience and this year's adjudicator, Colin Snell FRSA BA, were transported from biblical times to modern street dance, via Alderney's past, the Land of Woz and a drawing room in Streatham, England. The standard was very high and, with six of the plays in the Under-21 and Under-15 categories, the future of theatre in the bailiwick is looking very bright.
The festival was a great personal success for GADOC director Bridget Carey, whose play 'Who Was Hilary Maconochie?' not only won the Bucktrout Challenge trophy for the play with the highest marks, but also tied with her other entry 'Lions and Donkeys' for the Audience Award. Two of her cast from 'Who Was Hilary Maconochie?', Gillian Jackson and Stephanie Andrijasevic also won awards for outstanding performance by an individual and outstanding performance by an individual in a supporting role respectively and Pierce Rogan won the award for the most promising Under-21 performance for 'Lions and Donkeys'. Bridget also shared the award for best director with Jenny Falla who directed another GADOC entry, 'Move it'. The award for the best under-18 performance went to Ed Garrard for his performance in Elizabeth College's entry 'After Magritte' directed by Maz Campbell.
Oliver!
Yes, we all know the songs. Yes, we all know the story. Yes, we've seen it before. And yet, and yet…….
For those who missed this year's Easter Musical, they missed a real treat. GADOC's "Oliver" proved to be refreshing, uplifting and at times, quite thrilling. Of course everything was familiar, from 'Food, Glorious Food' to 'As long as he needs me', but this production made you look forward to the next big number or exquisite solo performance, and the dance routines were simply breathtaking. GADOC has made quite a name for itself with its clever sets, but this time it excelled itself. The scenic designs and artwork were brilliant and the transformation from one set to another –such as from the workhouse to the Victorian London streets – were seamless.
The Director had masterfully interwoven reprises and duologues in spotlights in front of the stage or on the steps and when these were concluded, miraculously the whole stage had been transformed. And this happened time and again.
For the first time GADOC used a digitally enhanced backing track for all the songs, and although the traditionalists may have preferred an orchestra, the sound balance and quality of the singing were exemplary.
To single out performances would be a trifle unfair as this was an ensemble effort, with the backstage crew, the designers, the costumiers, the technicians, and many more, each important in the overall scheme of things and each supporting everyone else. Having said that, there was some beautiful singing and characterisations, and the big numbers always seemed to have that extra something which you hadn't seen before.
It is no mean feat to direct a show which includes nearly 50 people, half of them youngsters, with at least another 50 folk involved off stage. Director Dennis Burns must be exhausted but well satisfied that his and everyone else's hard work has paid off.
Perhaps this review should end with the words of those who were leaving the theatre, all with broad smiles on their faces, and in some cases, quite ecstatic. 'The talent in this island never ceases to amaze me'; 'the future of GADOC is in good hands'; 'Wow, musicals don't get better than this'; 'this could have graced any West End stage'. There's no more to be said.
JRT
A Midsummer Night's Dream
The idea that Shakespeare is impenetrable to a modern audience has been disproved this week at Beau Sejour with the club's production of A Midsummer Night's Dream.
Through clarity of diction whist retaining characterisation, this large cast managed to put across every line of their text while keeping the audience completely focussed on the journey envisioned by director Gill Jackson.
The play essentially involves three intertwining casts; the Nobles, their Fairy counterparts, and the Artisans, the latter also doubling as the actors of a play within a play.
The writing gifts most of the comedy to the Artisans who used their considerable talents to wring out every laugh possible but they were closely pursued by the younger Nobles who milked their rivalries for all of its comedic potential without sacrificing any of the drama.
The third element, the Fairies carry the essential magical elements of the script, and their otherworldyness was enhanced by a very physical Puck whose interaction with Oberon, the Fairy King gave some memorable moments.
It would be easy to single out individuals for praise in this company but the list would be lengthy and would fail to acknowledge the importance of everybody involved in this high quality production.
But to the show itself.
The set was minimal as was the lighting but both were used to good effect in setting the various scenes as was the placement and movement of the actors therein to keep the eye entertained. More might have been achieved but perhaps this is outside of the resources available and beyond the limitations of this stage.
The specially composed and performed music was suitably Shakespearian and added to the ambience as did the occasional sound effects, although these should have been of a higher quality to match the overall production values of this show. When the standard is so high, the average unfortunately stands out.
Having made this quibble, there was much to enjoy in this production with quality acting to the fore. In Gill Jackson we have a director with a passion for drama and for Shakespeare and this is more than evident in the work put in by every single actor to achieve such a high overall standard. Her cast often belied their amateur status with many showing their professional training and or natural talent. More importantly, there were no weak links in this cast which shows the quality in depth available these days within the ranks of the club.
As always, there are things within the production which might have been done differently and perhaps better and not everything can be perfect for every performance. But all must be forgiven when a show can capture the imagination of some two hundred people and hold it in thrall for the length of an evening's entertainment.
Is Shakespeare impenetrable and inaccessible to a modern audience? I think I know a couple of hundred Islanders who have seen the evidence to disprove such a suggestion.
Deliver Us From Evil
A church bell tolls…, an angel marking a child's gravestone is decapitated…, throw in some thunder and lightning and you have all the ingredients for a thriller that kept you guessing right up until the end. I'm talking of course about Deliver Us From Evil , which was directed by Bob Thompson.
It goes without saying all these effects would be rendered useless without a great cast – which Bob provided us with, and a superb back-stage team ably led by Simon Rowe and Fleur Tucker. The set really was a treat, very realistic indeed, and this provided the perfect backdrop for the cast to work in. And special mention must go to Felix the cat, (Jan Palmer) who we never saw but regularly heard!
On the night I went to watch, the audience were most definitely appreciative of this tense thriller – you could actually hear them anticipate Diana Seaton (Jo Le Page) discovering the dead rat amongst her sewing; and the odd comedy lines here and there provided light relief along the way. So big congratulations to Bob, his cast and production team for a 'thrilling' end to our 2013 Summer Season.
Lisa
Calendar Girls
Huge congratulations to everybody involved in our first summer production, 'Calendar Girls'.
Playing to packed houses every night, the production showed once again what an amazing amount of talent our Club has at its disposal.
Talent means nothing without hard work, of course, and Margaret Moffatt and her team had worked so hard to turn this technically challenging piece into the seamless performance we saw every night at Beau Sejour.
I was fortunate enough to attend the opening night, when the audience reaction was amazing, and I understand it was the same every night, culminating in a standing ovation on the final performance.
The Lt. Governor and Mrs Walker, attending their first GADOC production, were very impressed, and Angela Knowles (the original Calendar Girl) and her husband Charles, who have attended dozens of performances all over the world, said it was right up there with the very best, including the professional productions. In fact Charles, sitting alongside me, was in tears at the final curtain, declaring he had never been so moved by any other production.
So well done to the entire team, and of course to those brave ladies you see above who bared all for their art – boys, you have been challenged – The Full Monty next!
Dennis
Grease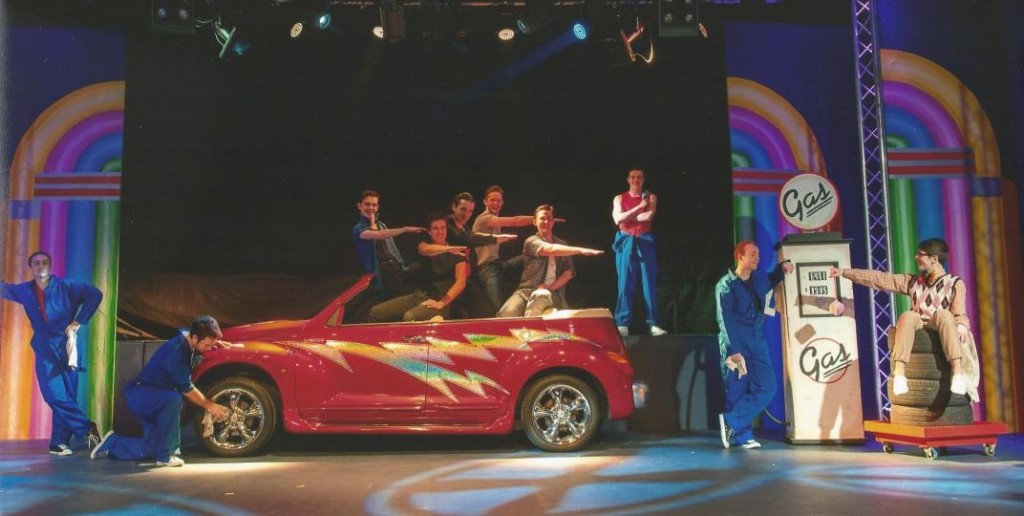 GADOC are going through a golden patch of late with their musicals; a fact already noticed by the Guernsey public as this show completely sold out one week before opening night and that's not happened in living memory!
Those lucky people who have already booked will not be disappointed if the final dress rehearsal is anything to go by.
Grease the stage musical is much more of an ensemble piece than recall of the film would have us believe and this production has strength stretching throughout the whole cast. The big numbers are everything you would hope for from this musical with the bright and colourful sets matched by the excellent costumes and the amazing musical sound coming off of the stage. The overall singing quality is very high and there are several outstanding solo performances and not only from familiar faces.
It would be unfair to single out individuals as this is such a team performance and this quality extends off of the stage as well. The invisible band provide a solid backing to the performers and, thanks to a good sound mix, doesn't overshadow them. The stage crew handle the many scene changes with calm efficiency (well, it looks that way from out front) and everything looks natural, the sign of good direction.
It's strange to think that most of this cast weren't even born when the film came out but that just shows the breadth of quality which now exists within the ranks of GADOC.
If there were tickets available I'd urge you to go and spend what promises to be an excellent evening with the cast of Grease.
This show has the potential to be one of those productions which will be remembered for a long time.
Little Red Riding Hood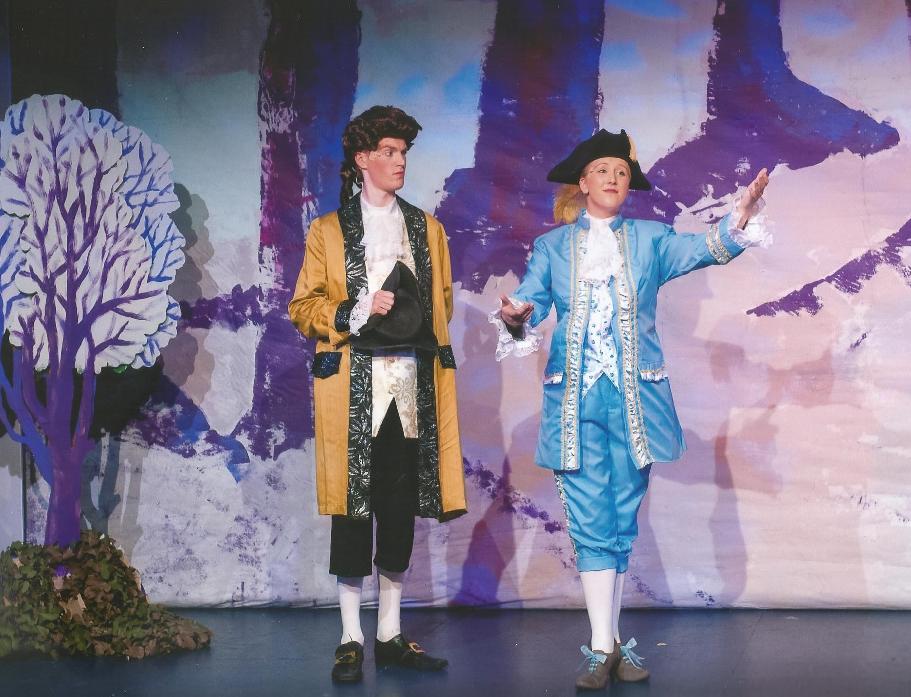 To anyone who knows me they will be aware that 'panto' is not my favourite theatrical genre but I always attend as a faithful member of the Club and I have to say that this year I was agreeably surprised. I found it refreshing, funny, and colourful, with never a dull moment.
All the leading characters gave their all and I congratulate them on many fine performances.
Audience participation has taken on a new role since the advent of programmes like 'The X Factor' and actors in pantomime have to learn how to contend with quite a lot of repartee from many of the youngsters and the not so young patrons who seem to enjoy shouting their comments. I thought this cast, even the young ones, handled it all with real panache and it added to the fun.
There was lots to enjoy – the transformation scenes, the break-dancing granny, a good community song, a terrific orchestra, with well thought-out songs and dances, lots of good ensemble work, and eye-catching costumes and colours.
So congratulations are due all round, but especially to Bridget and Jo, Avril, Steph and Stephen, who made a formidable team.
As a steward it is always interesting to hear peoples' comments as they are leaving and it was apparent by what people said and from the smiles on their faces that a great time had been had by everyone.
Bob Thompson
Tom Sawyer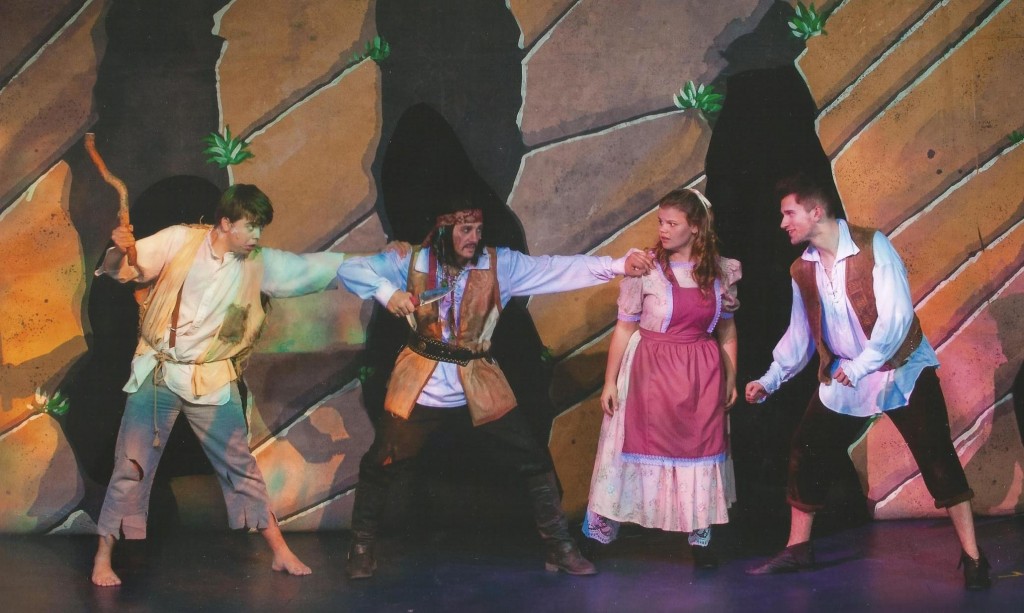 Congratulations to Jo Martel, Jenny Falla and the cast and crew of Tom Sawyer for an amazing show.
The set was imaginative and the backdrops colourful and detailed (particularly impressive was the cave with its cut-out sections). The authentic costumes were fabulous and the attention to detail with the girls' ringlets and bonnets was delightful.
In particular for me it was lovely to see a couple of our more senior ladies enjoying the dancing and singing as much as the youngsters!
The fight scenes were terrific. It was a great show for all the family: totally absorbing and moving at times whilst also having some very funny moments. It was clear to see that everyone on stage was having a great time and they should all be justly proud of this production.
Both casts were equally able and the whole show was full of energy and thoroughly enjoyable with catchy songs and great dances.
Well done everyone!
Jo Le Page
RENT

To old fogeys like myself I have to admit that the advance notices of RENT didn't thrill me at all. The earthiness of the seamy side of New York of the 90s and the fact that it was a rock opera left me fairly luke warm. But as ever I attended, as I attend every GADOC production, and let me say here and now "IT BLEW ME AWAY ! ".
This was a new venture for the Club and I believe some of the Committee were a little apprehensive but there is no doubt that this sets down a marker for the future. And if the youngsters in this production are the Club's future then it is in good hands. WHAT A SHOW !
From reading the very comprehensive programme (worth every penny of £2) it seems that the younger generation were already very familiar with the show and were obviously delighted that Lisa had the courage to go for it and involve them. Every one of the 18 members of the cast gave a performance that could easily have graced a West End stage, driving the audiences wild with the excitement of it all and moving them to tears with the poignancy and heartbreak towards the end.
It would be churlish to single out individuals as everyone gave their all but I would like to mention one young man , Jordan Veloso, whose style and panache wowed us all in the first half and made us want to reach out to him in his anguish towards the end, after giving his friends so much joy, reminding us that at times life just isn't fair.
It was right to stage this show at the PRPAC. It needed the intimacy of a close audience. So many congratulations to Lisa and her team, especially Emma and Dave Hodge, and to Rickey Long directing an accomplished band that kept the audience foot tapping right to the last enclore.
BRILLIANT !
Bob Thompson
Memory of Water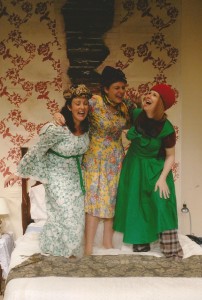 Congratulations to Fiona Colby and her team for bringing Memory of Water to the Guernsey stage. This is such a well written and funny play it was lovely to see it brought to life so effectively. Very strong performances and an imaginative set, with some subtle lighting effects made for a fine evenings entertainment, and the efficiency of the back stage team meant that it flowed seamlessly. Well done to all involved!