Aladdin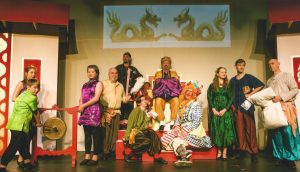 For most of us, Christmas isn't Christmas without a trip to the theatre. Once again, GADOC have staged a fantastic pantomime for all to enjoy, brought to us by Judy Moore and her fabulous team. From the moment the band started playing under the guidance of Stephen Dixon (MD) and the curtains opened to a vibrant set that transported us back to old Peking, you could sense we were in for a good night.
It would not be fair to mention the many stand out performances we all enjoyed as to be honest, it was so lovely to see every single person on stage – without exception – thoroughly committed to everything they were doing. The dance numbers were energetic and well-rehearsed thanks to a dedicated team of choreographers, Brian and Catherine Webster, Claire Cathcart and Stephanie Jehan. The dialogue was secure as we were treated to some great characterisations throughout. Costumes were bright and colourful, and the vocals that hit the back of the theatre were confident, full of harmonies and a joy to listen to.
As always, it's the team behind the scenes that makes the magic happen. It's never easy to get a crew together for such a big commitment over Christmas and New Year, but Sol Phillips (SM) did just that. Our thanks to every one of you who built the set, sourced props, painted scenery, etc., and then crewed your way through the festive period. So lovely to see some new names on-board this year – we very much hope you will come back for more fun on the 'dark side' in future productions.
A special mention must go to Sarah Hicks too, who I know provided Judy, the team and the production generally with endless support throughout.
Finally, congratulations to Judy for pulling it all together. No easy task with so many components, so many plates to keep spinning, but you did a grand job Judy. A big thank you from GADOC and Guernsey to you and the entire team for bringing some magic to the stage this Christmas.
Lisa
Macbeth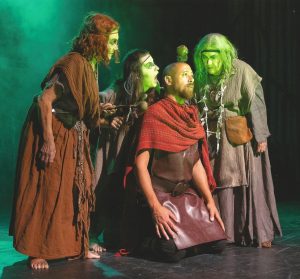 GADOC is most fortunate to have a director who is so passionate about performing live Shakespearean plays. In recent years Gillian Jackson has brought us ''Twelfth Night' and 'A Midsummer Night's Dream' as well as writing and directing 'Sea Change' her own sequel to 'The Tempest'. But surely, Macbeth has been the most demanding but she has lost none of her touch. Surrounding herself with a starlit cast and a crew that is second to none, the play had passion, pace and quite breathless drama towards the end.
The set was the same throughout and yet with clever lighting, each scene looked so different. It needed the minimum of imagination on the audiences' part to move from the heath with the witches to the interior of the Castle. And the fact that there was a split level for the action to take place, the interest in what was happening never faltered for a moment.
A play as demanding as this obviously needs consummate actors to carry it off. Andy Hislop playing the title role excelled, portraying both the guile, reluctance and torment with exquisite timing and passion. His nemesis, Lady M. played by Stephanie Andrijasevic, was beautifully drawn, insisting that her husband succeeds, whatever the cost. The atmosphere when Steph and Andy were alone on the stage was electric, and one could almost 'feel' the evil in their schemes.
But such a play needs a massive supporting cast and there isn't space here to mention them all in detail, but all played their parts with a real sense of purpose and it was easy to both sympathise and empathise with them. How original of Gillian to cast two Thanes as females played well by Linda Howell and Janet Unitt. Newcomer Sandy Adams also excelled as the doomed Banquo. Stalwarts of GADOC, Dave Hyett, David Foote, Matt Judge, Ashley Ellis, Gaby Le Couteur, Pete Le Lacheur, and Pauline Bisson all helped the plot to move along with pace and managed to heighten the tension when it was required. Michael Sullivan proved that he was as comfortable with a dramatic role as well as a musical one, and managed to maintain a good Scottish accent throughout as the tormented Macduff. His family, played by Martine Wallbridge and children Josh and Grace Ogier, were only on stage for a few minutes but what a few minutes ! Absolutely heart-wrenching ! Young Pieter Durman did well playing dual roles but it was left to an old hand, Dennis Burns, to bring a much needed piece of light relief with his comic playing of the porter.
It is not often GADOC puts on a production with the likes of Ann Atkinson, Kath Prince and Lydia Pugh playing minor roles, but this was inspired casting. The roles of the three witches was never in better hands with their dreaded prophecies affecting not only the main characters but the audience as well.
Set in the late Celtic period gave great scope for those responsible for costumes (and some striking tattoos) and thanks must go to the team 'behind the scenes'.
All in all it was an ambitious production and it was interesting to note that audiences increased in numbers night by night – and rightly so. A splendid play performed with skill and passion and directed by a luminary GADOC and Guernsey is fortunate to have.
Bob Thompson
---
Jeeves and Wooster in Perfect Nonsense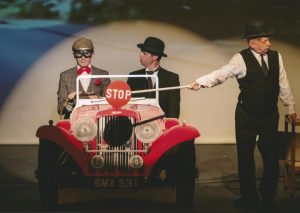 Having just re-read my review of last summer's The 39 Steps, I cannot help thinking that there will be a touch of deja-vu when I write this one. Both were directed by Dennis Burns, both had minimal casts playing multiple roles, and both were fiendishly difficult to do and pull off.
Last year 4 protagonists played numerous parts, frantically changing costumes and gender, but keeping an implausible storyline moving swiftly along. This year there were only three players doing similar things ably assisted by a revolving stage to make things easier – or perhaps more complicated?
But what a delight it was to watch. Matt Judge, playing Bertie Wooster and on stage for virtually the whole play with several costume changes, had the audience eating out of his hand from the start. He managed to maintain the foppish accent throughout and used pauses and double-takes to great effect. As the narrator of his own story he kept things moving along but as he introduced new characters to his tale, the other actors certainly had their work cut out, at one stage one of them playing two roles simultaneously.
Stephen Rouxel, not only played Jeeves impeccably, suave to the end and never in a hurry. But when he had to become another player he could appear manic, loud, overbearing as well as, in the female roles, charming, sultry and seductive. When I tell you that he played a magistrate Sir Watkyn Bassett, his daughter Madeline Basset, Gussie Fink-Nottle betrothed to Madeline, and Stephanie 'Stiffy' Byng, Sir Watkyn's niece, you will start to get the idea. Stephen did not miss a trick.
The third cast member was Michael Sproule, even excelling his tour de force from last summer. He too had to play numerous roles requiring swift costume changes and not least a lot of ingenuity. His roles included Seppings, the butler to Mrs Dahlia Travers, whom he also played, Butterfield the butler to Sir Watkyn, an antique shop proprietor, Constable Oates, and on top of all that he was given the responsibility to work the Revolve by cycling with great effort, ensuring the whole stage moved round 180 degrees. This was only used twice but to great effect.
This was a fast-moving, slick production leaving the audience gasping with amazement at the sheer audacity as to how it all came together. But one cannot forget the backstage team who were just as talented as our actors, and although we never once saw them, they were responsible for a brilliant set, moved on and off entirely by the actors, ensuring the right costumes, wigs, props etc, were in the right place at the right time, and for the sound and lighting including the back projection of a car journey. So hats off to the team, ably led by Simon and Fleur Rowe with Lorna Burns, Judy Moore, Sol Phillips, Pauline Telford and countless others, all of whom helped to give a wonderful night at the theatre leaving the audience chuckling all the way home. Thanks Dennis, you pulled it off again! Maybe a two-hander next year??
Bob Thompson
---
Les Misérables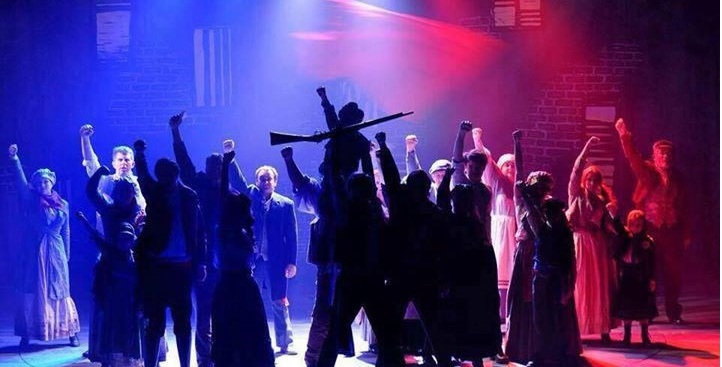 What more is there to say? After two exhausting, exhilarating weeks, can there be any more superlatives to lavish on this astounding production. Having been lucky enough to see the dress rehearsal and have tickets for the final night I was truly amazed just how the voices held up and were just as good, if not better, at the end than at the beginning. Of all the shows one sees it is rare to be able to say that one could not spot a weakness or flaw in any aspect of it.
It looked terrific, – the sets being so clever with the change of scenes being seamless – the action and music continuing as silent dark figures in the background moved what seemed to be massive props quite effortlessly into place – congratulations to Lucy Smith for stage managing this production. It is hard to imagine how the crew managed to learn to work the Revolve so quickly – what an asset this is going to be for the Club!
It must also be said that all the cast looked amazing – the costumes in every scene being quite right for the period. It is obvious that the research into this had been meticulous. And the fact that most of the ensemble had several parts to play must have meant numerous costume changes – but no-one was ever late on stage and each scene looked spot on. We are so fortunate to have someone like Dany to mastermind all this – supervising her team of stitchers with the eye of a true professional.
It is hard to start making comments on the lead singers as all were superb, from the youngest to the oldest. To have the talent to make each audience laugh, gasp, and be so totally involved that so many have been moved to tears, must mean that we have in our Club some quite amazing people. A special mention must be made of Lydia as Fantine, Charlee as Eponine, Michelle as Cosette, Andy as Javert, Nat as Marius, and Ashley as Enjolras and of course the magnificent Michael as Jean Valjean, who all grew in stature as the days progressed all realising that this was something very special, the like of which will probably never be seen again in Guernsey. But all the performers shone like stars. Mention must also be made of Tim and Ali providing brilliant light relief midst all the angst and passion, and also all the youngsters who gave of their best every night until the audiences were running out of tissues.
How lucky the Club is to have Lisa and the two Simons working together to create such a masterpiece. Simon Ricketts as MD honed the singers into doing things they never believed possible, ably supported by Lydia and Laura as vocal coaches. He also managed a superb 16 piece orchestra, masterfully played outside the theatre, much to the astonishment of many in the audience. One must also mention the Beau Sejour technicians who handled the sound and lighting with such a deft touch, and they left nothing to chance.
The second Simon (Rowe) also needs congratulations for producing a set that had to be seen to be believed. After long deliberations as to just how the show was to be staged Simon came up with a plan as masterful and as ambitious as it could be. And the audiences were blown away by it all.
But the final plaudit must go to Lisa, who seemed so relaxed through it all – from the auditions to the final night. She is quite a lady. To believe, three years ago that she could do it, and to build a team and cast around her who she knew would fulfil her dream shows just what a special person she is. It was apparent on the last night just how much love and respect she had from both sides of the curtain and proving that she had made theatrical history.
So congrats to everyone involved – the cast, crew, production team, orchestra, plus countless others who helped to make this the best production GADOC has ever put on. Thank you all so much for taking us right into the heart of the West End with such style.
Bob Thompson
---
Treasure Island
Wow! What a great couple of weeks at Beau Sejour – thirteen performances of Treasure Island and only twenty nine single seats unsold for the whole of the run – an attendance of 99.5%!
Warmest congratulations and thanks go to all members of the cast, stage crew and orchestra, to the choreographers, the costume ladies, chaperones, scenic painters and designers and construction people for the great enjoyment which they gave to the people of Guernsey over the festive period. There was something in the Show to appeal to everyone – from the oohs and aahs for the 'panto babes' to the scary monsters and skeletons, the physical antics of the fights and the lovely dancing and beautiful singing.
The cast was, on the whole, made up of young people and they put their hearts and souls into every performance. Their energy, enthusiasm and obvious enjoyment were amazing and it was great to see Dennis Burns back on stage as the Dame!
GADOC's very sincere thanks and congratulations go to Jenny Falla as Director and her husband, Colin, Stage Manager, for creating such a very happy show which gave enormous pleasure to everyone, both on and off-stage!
Barbara Minta
---
A Murder is Announced
There might be a few people who rolled their eyes when they found out that GADOC was putting on an Agatha Christie thriller. But equally there must have been more than a few, judging by the large audience figures we had, who were delighted that at last GADOC is going down a traditional road putting on a clever whodunnit that keeps us guessing right to the end.
This production did not disappoint. With a large cast of experienced and less familiar faces, Judy Moore managed to build up the tension, offer us lots of red herrings, surprise everyone with character switches and challenged us to work out just who was behind the murder right up to the last five minutes. With, of course, a little help from Agatha Christie. And I would surmise not many of us got it right.
The set, which received a round of applause when the lights came up on a typical 1950s drawing room of a rather grand house spread across the whole width of the stage. The cast of twelve used the space well and kept the pace up throughout, giving us believable characters with whom we could identify and sympathise. The leading roles were beautifully played, particularly Kath Prince as Letitia Blacklock who played her massive part with her usual elegance and style and Micky Nicolle as the eccentric 'Bunny' and of course, Gillian Jackson as the indefatigable Miss Marple who managed in her own subtle way to both support and at times outwit Inspector Craddock. This was a clever performance by David Foote who had just the right amount of gravitas with a touch of humour here and there. And they were very well supported by the rest of the cast. Many caught the eye, particularly Simone Kelham playing a paranoid eastern European maid, crucial to the denouement, but giving us a lot of fun throughout.
Reviews seldom mention those behind the scenes, but their input is not only to support the director and cast but to ensure the whole thing runs without a hitch, with scene changes, props, lighting and sound effects, making a seamless, smooth production. And this they achieved in an unobtrusive way which is surely the accolade every production team must hope for.
So well done to all concerned. Another enjoyable evening of theatre which GADOC's audiences have come to expect. Our standard remains high and bodes well for the future.
Bob Thompson
Sister Act – The Musical
When discussing the Programme for GADOC's Summer Season of 2015, Lisa put to the committee the suggestion of a smallish scale musical which she thought might have appeal for a summer audience. The committee accepted it happily but 'Sister Act' was certainly not a small scale musical and it had enormous appeal for our audiences, so much so that all performances were a 'sell-out' two weeks before the show started and there was at Beau Sejour Box Office a waiting list of over three hundred people hoping for returns!
I last saw 'Sister Act' a couple of years ago on Broadway and I was not overly impressed or thrilled by it but GADOC's production just 'blew me away'! I loved every minute of it.
Simon Ricketts and his band were first rate, a lovely sound with such sympathetic accompaniment to all the singers. I know Simon worked very hard throughout rehearsals to get the singing the way he wanted it – sometimes very un-tuneful on purpose but mostly making a glorious sound! He is such a great asset to our musical team! Emma Hodge and her backstage crew were most professional with all scene changes taking place seamlessly, and Simon Rowe and his team of set builders did a great job; they managed to convey the peace and reverence of the convent with some glorious effects. Speaking of effects, the lighting and sound were handled beautifully by the Beau Sejour team. Costumes made under the guidance of Dany Adams helped enhance the performances of the actors and there were some glorious moments when costumes changed or were augmented in the twinkling of an eye which amazed and impressed members of the audience. Steph Jehan's choreography was fun and hugely enjoyable but never irreverent. As for the cast, they were all superb – it is invidious to single out any one person for they all gave terrific performances, but special congratulations must go to Pauline Telford as Mother Superior in her first major singing role, Tasha Cotran, Ali Coubrough-Barnett and Susan Crossley as the three main Sister roles and I just loved the antics of the 'three stooges', they made me laugh every time they came on stage. As for Deloris, words cannot convey the huge talent of Charlee Hales. She richly deserved the enormous adulation and praise from the audience and everyone merited the almost total standing ovation that the Show received on the last night.
Everyone went home with a smile on their faces and joy in their hearts!
Warmest congratulations and thanks to you Lisa, for another wonderful show! Now bring on 'Les Misérables!'
(If you were unable to get tickets for 'Sister Act' now you know what you missed so make sure you book early next time!)
Barbara Minta
The 39 Steps
I think it is fair to say that not everyone coming to see GADOC's first Summer Season offering quite knew what to expect. The title may have triggered a vague memory of a John Buchan thriller read in teenage years or a Hitchcock movie of old, maybe seen on the TCM channel, starring Robert Donat playing the intrepid hero Richard Hannay. Any knowledge at all would be of a complex plot, moving from a murder in a flat in London, to a frightening train journey on the Flying Scotsman, a climb on the Forth Bridge, to a croft on the moors, a large house in Scotland, a chase across the heather, negotiating rivers and waterfalls, pursued by the police and an enemy bi-plane and ending up at The London Palladium. On picking up a programme at the theatre one sees that there is a cast of FOUR, is there any wonder that one could only be in a state of bemusement to say the very least.
But that was the challenge taken on by Director Dennis Burns. This was a spoof on the film version and the plot remained exactly the same but the skilled actors managed to portray all the characters involved with some ingenious staging, moving the story along at a hectic pace. Stephen Rouxel as Hannay was on stage the whole of the time, fighting off assassins, falling in and out of love, being chased by the police, and determined to foil the secret agents and save the country! Stephanie Andrijasevic played the murdered spy, Annabella and the reluctant lady-friend, Pamela, as well as the crofter's wife Margaret McTyte, yearning for love. Stephanie and Steve were perfect foils for each other, both giving as much as they got, and making us smile all the time at the sheer ingenuity and outrageousness of their roles. But that still left around another 30 characters to find!
With inspired casting Michael Sproule and Ethan Hitchon managed every one of them with panache and style, changing costumes, props, and accents at the drop of a hat – of which there were many!! Although it listed them as the two clowns in the programme they were much more than that. They were spies, policemen, a crofter, a milkman, a Scottish laird and his wife, two very credible Music Hall turns, two underwear salesmen, a newsvendor, a station guard, a police inspector, to mention but a few. The energy they found to fulfil all these roles left one quite breathless but the laughs they produced from beginning to end with slapstick routines, comic turns and immaculate timing, justly rewarded them for their brilliant efforts.
Although one never saw a single member of the crew, it was apparent that there must have been a very clued up team in the wings and in the sound and light boxes supporting the cast so that the timing of everything was just right and on the final night they were invited to come and take a well-earned bow to rapturous applause. There were over a dozen of them, and there is no doubt they had to work just as hard as the actors on stage. Congratulations must go to Dennis and a fantastic team effort – a brilliant evening's theatre.
Bob Thompson
Shrek: The Musical
Wow! What an amazing Show!!

Lisa, you have done it again – pulled out all the stops, raised the bar even higher and given us a Show to love and to remember! In the words of one of our longest – standing members the performance of SHREK 'made one very proud to be a member of GADOC.' He does not give praise lightly!

It is impossible to single out any one person or section of the Team, indeed it would be invidious so to do for everything was so professional – stage crew and set with some lovely special effects such as the exploding bird, excellent lighting and sound, wonderful costumes and make-up, brilliant orchestra, led by Rickey Long and Simon Ricketts, delightful choreography and amazing characterisations by all the cast. There was not a weak one amongst you all! I feel, however, that I should thank and applaud publicly Matt Judge and Rhys Ashcroft for stepping into the breach following Ashley Ellis' (Pinocchio) accident which resulted in a very painful knee dislocation. These two young men took over roles with less than sixty minutes' rehearsal. Well done to you both and thank you for saving the Show! Sincere commiserations to Ashley – I hope your knee is improving!

Well done, Lisa, it was a brilliant Show, so professional one could have been forgiven for thinking one was watching a London stage production. I know it was a very happy Show and this feeling of pure joy came across so well and uplifted all members of the audience.
Bring on Les Miserables in 2016!
Barbara Minta
The 66th Guernsey One Act Play Festival
The recent One Act Play Festival was a great success and attracted nine entries of very diverse plays, including one from Alderney. Over the three nights of the festival the audience and this year's adjudicator, Colin Snell FRSA BA, were transported from biblical times to modern street dance, via Alderney's past, the Land of Woz and a drawing room in Streatham, England. The standard was very high and, with six of the plays in the Under-21 and Under-15 categories, the future of theatre in the bailiwick is looking very bright.
The festival was a great personal success for GADOC director Bridget Carey, whose play 'Who Was Hilary Maconochie?' not only won the Bucktrout Challenge trophy for the play with the highest marks, but also tied with her other entry 'Lions and Donkeys' for the Audience Award. Two of her cast from 'Who Was Hilary Maconochie?', Gillian Jackson and Stephanie Andrijasevic also won awards for outstanding performance by an individual and outstanding performance by an individual in a supporting role respectively and Pierce Rogan won the award for the most promising Under-21 performance for 'Lions and Donkeys'. Bridget also shared the award for best director with Jenny Falla who directed another GADOC entry, 'Move it'. The award for the best under-18 performance went to Ed Garrard for his performance in Elizabeth College's entry 'After Magritte' directed by Maz Campbell.
Oliver!
Yes, we all know the songs. Yes, we all know the story. Yes, we've seen it before. And yet, and yet…….
For those who missed this year's Easter Musical, they missed a real treat. GADOC's "Oliver" proved to be refreshing, uplifting and at times, quite thrilling. Of course everything was familiar, from 'Food, Glorious Food' to 'As long as he needs me', but this production made you look forward to the next big number or exquisite solo performance, and the dance routines were simply breathtaking. GADOC has made quite a name for itself with its clever sets, but this time it excelled itself. The scenic designs and artwork were brilliant and the transformation from one set to another –such as from the workhouse to the Victorian London streets – were seamless.
The Director had masterfully interwoven reprises and duologues in spotlights in front of the stage or on the steps and when these were concluded, miraculously the whole stage had been transformed. And this happened time and again.
For the first time GADOC used a digitally enhanced backing track for all the songs, and although the traditionalists may have preferred an orchestra, the sound balance and quality of the singing were exemplary.
To single out performances would be a trifle unfair as this was an ensemble effort, with the backstage crew, the designers, the costumiers, the technicians, and many more, each important in the overall scheme of things and each supporting everyone else. Having said that, there was some beautiful singing and characterisations, and the big numbers always seemed to have that extra something which you hadn't seen before.
It is no mean feat to direct a show which includes nearly 50 people, half of them youngsters, with at least another 50 folk involved off stage. Director Dennis Burns must be exhausted but well satisfied that his and everyone else's hard work has paid off.
Perhaps this review should end with the words of those who were leaving the theatre, all with broad smiles on their faces, and in some cases, quite ecstatic. 'The talent in this island never ceases to amaze me'; 'the future of GADOC is in good hands'; 'Wow, musicals don't get better than this'; 'this could have graced any West End stage'. There's no more to be said.
JRT
A Midsummer Night's Dream
The idea that Shakespeare is impenetrable to a modern audience has been disproved this week at Beau Sejour with the club's production of A Midsummer Night's Dream.
Through clarity of diction whist retaining characterisation, this large cast managed to put across every line of their text while keeping the audience completely focussed on the journey envisioned by director Gill Jackson.
The play essentially involves three intertwining casts; the Nobles, their Fairy counterparts, and the Artisans, the latter also doubling as the actors of a play within a play.
The writing gifts most of the comedy to the Artisans who used their considerable talents to wring out every laugh possible but they were closely pursued by the younger Nobles who milked their rivalries for all of its comedic potential without sacrificing any of the drama.
The third element, the Fairies carry the essential magical elements of the script, and their otherworldyness was enhanced by a very physical Puck whose interaction with Oberon, the Fairy King gave some memorable moments.
It would be easy to single out individuals for praise in this company but the list would be lengthy and would fail to acknowledge the importance of everybody involved in this high quality production.
But to the show itself.
The set was minimal as was the lighting but both were used to good effect in setting the various scenes as was the placement and movement of the actors therein to keep the eye entertained. More might have been achieved but perhaps this is outside of the resources available and beyond the limitations of this stage.
The specially composed and performed music was suitably Shakespearian and added to the ambience as did the occasional sound effects, although these should have been of a higher quality to match the overall production values of this show. When the standard is so high, the average unfortunately stands out.
Having made this quibble, there was much to enjoy in this production with quality acting to the fore. In Gill Jackson we have a director with a passion for drama and for Shakespeare and this is more than evident in the work put in by every single actor to achieve such a high overall standard. Her cast often belied their amateur status with many showing their professional training and or natural talent. More importantly, there were no weak links in this cast which shows the quality in depth available these days within the ranks of the club.
As always, there are things within the production which might have been done differently and perhaps better and not everything can be perfect for every performance. But all must be forgiven when a show can capture the imagination of some two hundred people and hold it in thrall for the length of an evening's entertainment.
Is Shakespeare impenetrable and inaccessible to a modern audience? I think I know a couple of hundred Islanders who have seen the evidence to disprove such a suggestion.
Grease
GADOC are going through a golden patch of late with their musicals; a fact already noticed by the Guernsey public as this show completely sold out one week before opening night and that's not happened in living memory!
Those lucky people who have already booked will not be disappointed if the final dress rehearsal is anything to go by.
Grease the stage musical is much more of an ensemble piece than recall of the film would have us believe and this production has strength stretching throughout the whole cast. The big numbers are everything you would hope for from this musical with the bright and colourful sets matched by the excellent costumes and the amazing musical sound coming off of the stage. The overall singing quality is very high and there are several outstanding solo performances and not only from familiar faces.
It would be unfair to single out individuals as this is such a team performance and this quality extends off of the stage as well. The invisible band provide a solid backing to the performers and, thanks to a good sound mix, doesn't overshadow them. The stage crew handle the many scene changes with calm efficiency (well, it looks that way from out front) and everything looks natural, the sign of good direction.
It's strange to think that most of this cast weren't even born when the film came out but that just shows the breadth of quality which now exists within the ranks of GADOC.
If there were tickets available I'd urge you to go and spend what promises to be an excellent evening with the cast of Grease.
This show has the potential to be one of those productions which will be remembered for a long time.
Little Red Riding Hood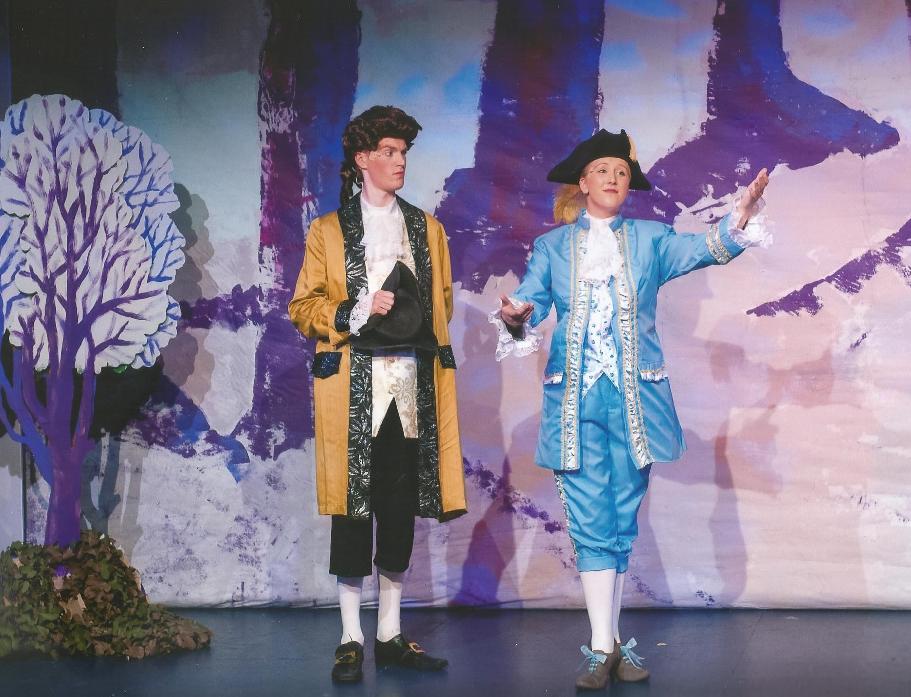 To anyone who knows me they will be aware that 'panto' is not my favourite theatrical genre but I always attend as a faithful member of the Club and I have to say that this year I was agreeably surprised. I found it refreshing, funny, and colourful, with never a dull moment.
All the leading characters gave their all and I congratulate them on many fine performances.
Audience participation has taken on a new role since the advent of programmes like 'The X Factor' and actors in pantomime have to learn how to contend with quite a lot of repartee from many of the youngsters and the not so young patrons who seem to enjoy shouting their comments. I thought this cast, even the young ones, handled it all with real panache and it added to the fun.
There was lots to enjoy – the transformation scenes, the break-dancing granny, a good community song, a terrific orchestra, with well thought-out songs and dances, lots of good ensemble work, and eye-catching costumes and colours.
So congratulations are due all round, but especially to Bridget and Jo, Avril, Steph and Stephen, who made a formidable team.
As a steward it is always interesting to hear peoples' comments as they are leaving and it was apparent by what people said and from the smiles on their faces that a great time had been had by everyone.
Bob Thompson
Tom Sawyer
Congratulations to Jo Martel, Jenny Falla and the cast and crew of Tom Sawyer for an amazing show.
The set was imaginative and the backdrops colourful and detailed (particularly impressive was the cave with its cut-out sections). The authentic costumes were fabulous and the attention to detail with the girls' ringlets and bonnets was delightful.
In particular for me it was lovely to see a couple of our more senior ladies enjoying the dancing and singing as much as the youngsters!
The fight scenes were terrific. It was a great show for all the family: totally absorbing and moving at times whilst also having some very funny moments. It was clear to see that everyone on stage was having a great time and they should all be justly proud of this production.
Both casts were equally able and the whole show was full of energy and thoroughly enjoyable with catchy songs and great dances.
Well done everyone!
Jo Le Page
RENT
To old fogeys like myself I have to admit that the advance notices of RENT didn't thrill me at all. The earthiness of the seamy side of New York of the 90s and the fact that it was a rock opera left me fairly luke warm. But as ever I attended, as I attend every GADOC production, and let me say here and now "IT BLEW ME AWAY ! ".
This was a new venture for the Club and I believe some of the Committee were a little apprehensive but there is no doubt that this sets down a marker for the future. And if the youngsters in this production are the Club's future then it is in good hands. WHAT A SHOW !
From reading the very comprehensive programme (worth every penny of £2) it seems that the younger generation were already very familiar with the show and were obviously delighted that Lisa had the courage to go for it and involve them. Every one of the 18 members of the cast gave a performance that could easily have graced a West End stage, driving the audiences wild with the excitement of it all and moving them to tears with the poignancy and heartbreak towards the end.
It would be churlish to single out individuals as everyone gave their all but I would like to mention one young man , Jordan Veloso, whose style and panache wowed us all in the first half and made us want to reach out to him in his anguish towards the end, after giving his friends so much joy, reminding us that at times life just isn't fair.
It was right to stage this show at the PRPAC. It needed the intimacy of a close audience. So many congratulations to Lisa and her team, especially Emma and Dave Hodge, and to Rickey Long directing an accomplished band that kept the audience foot tapping right to the last enclore.
BRILLIANT !
Bob Thompson
Memory of Water
Congratulations to Fiona Colby and her team for bringing Memory of Water to the Guernsey stage. This is such a well written and funny play it was lovely to see it brought to life so effectively. Very strong performances and an imaginative set, with some subtle lighting effects made for a fine evenings entertainment, and the efficiency of the back stage team meant that it flowed seamlessly. Well done to all involved!