One Act Play Festival 2017
GADOC's 69th Annual One Act Play Festival ran from Tuesday 23rd May until Friday 26th May. The plays were:-
Tuesday 23rd May 2017
Dirty Business by Derek Webb
Director: Judy Moore (GADOC)
While working in the office of one of the Council's department heads, two cleaning ladies find evidence of plans for cutting spending to meet government targets. This may include their jobs being on the line. Having found some other interesting items in the office they decide to 'play dirty' to persuade Mr Beasley to change his policy.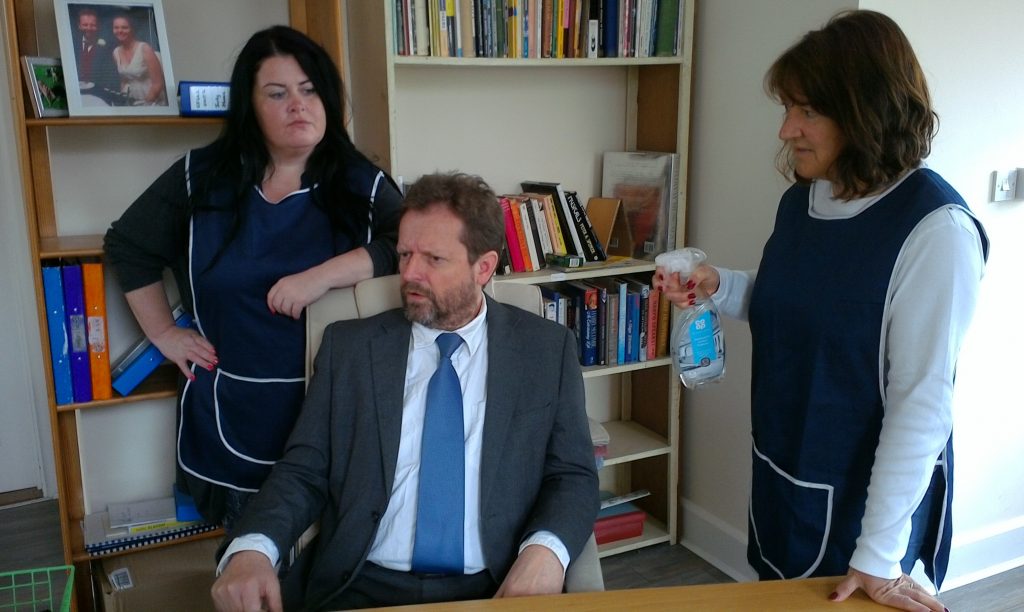 Being Nice by Mark Neil
Director: Fiona Dove (GADOC)
We start on a typical quiet Saturday morning at breakfast and are led through a journey of high emotion, subterfuge and lust!
'Being Nice' is a quirky play that lifts the roof off a 3-bed terraced house and follows the emotional twists and turns of divorced landlord Geoff and his two female lodgers.
[Parental Discretion Warning: This play may be deemed unsuitable for children under 15]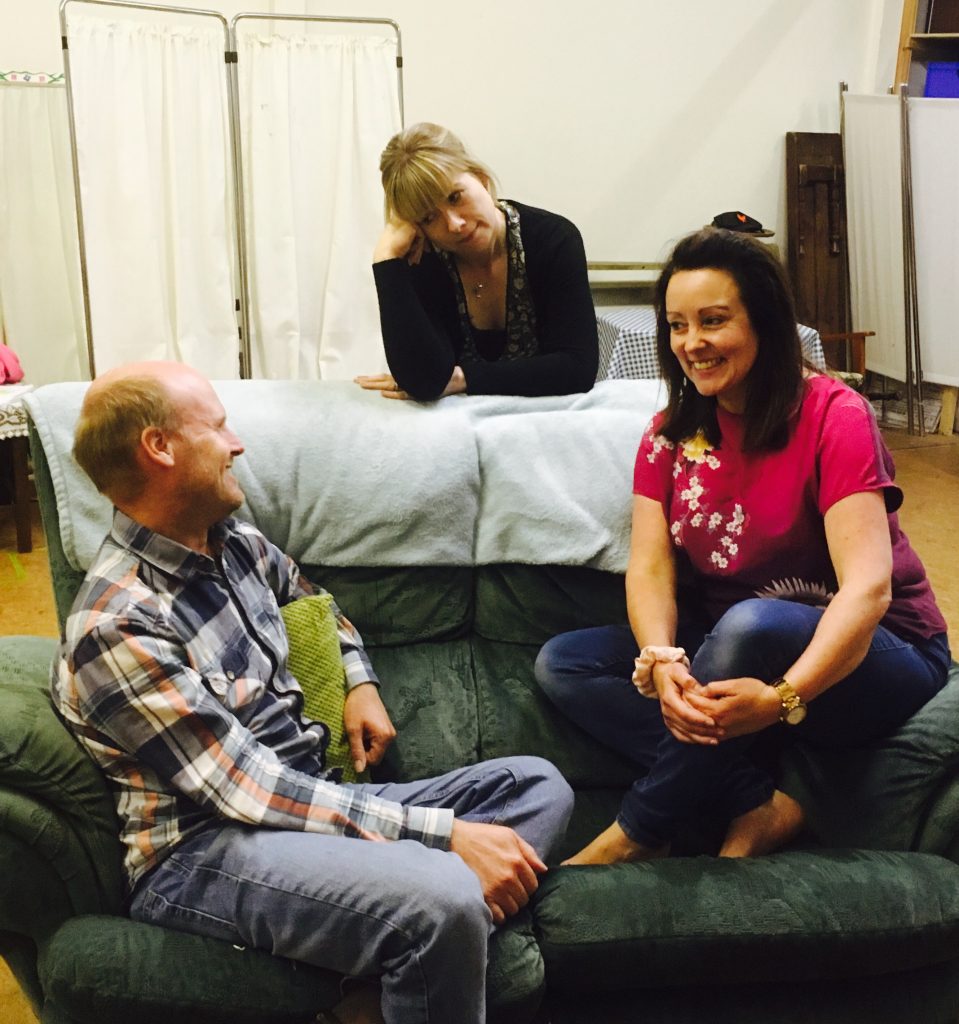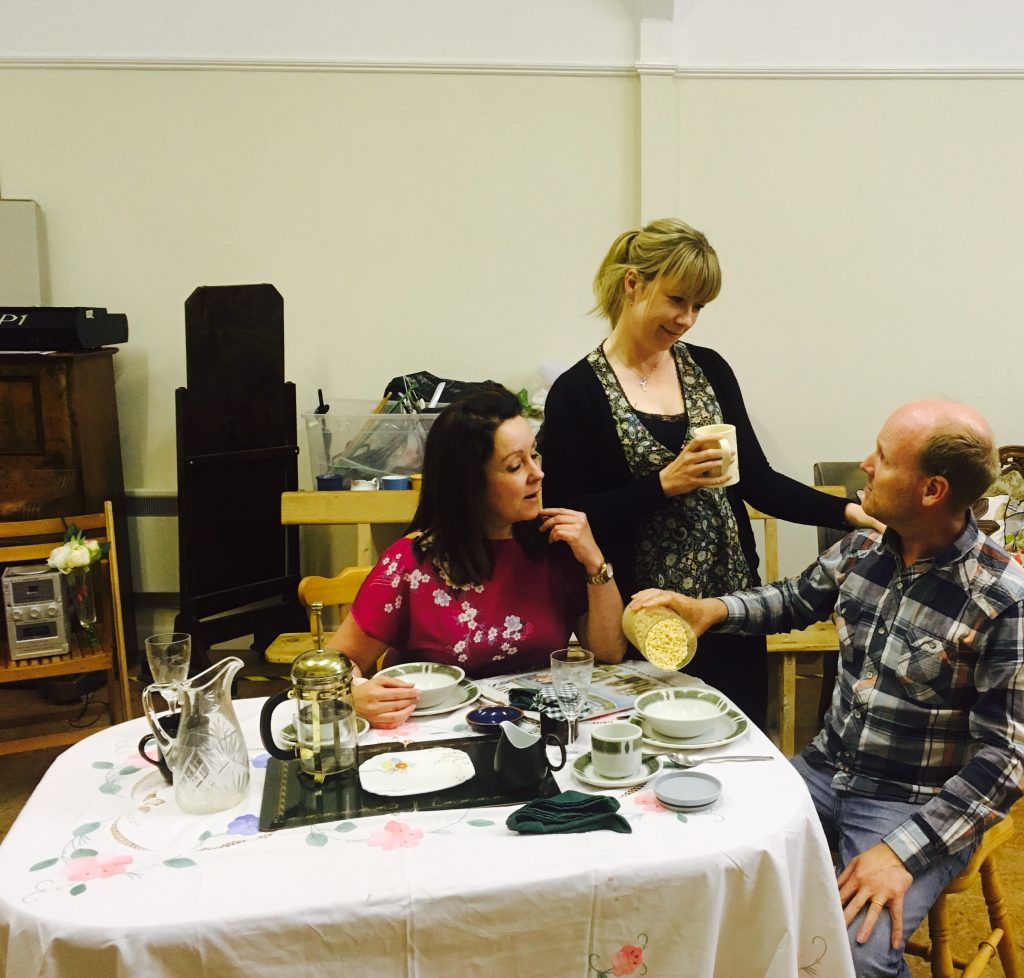 Wednesday 24th May 2017

Bailiff's Cross by James Le Page
Director: Joy Le Page (Class Act Productions)
Once long ago, in the time of dashing knights and fair maidens, on the Isle of Guernsey three friends grow up thinking that nothing can break their solid bond. But all they know is about to change when the Queen of France plans to take the Island for her Kingdom.
The trials that commence under this threat will test the three friends resolve to its limit. Will their friendship survive to enable them to fly the banner of resistance or will true love and a lust for power tear all they knew apart bringing about chaos and allowing the Queen to succeed in her wicked plot…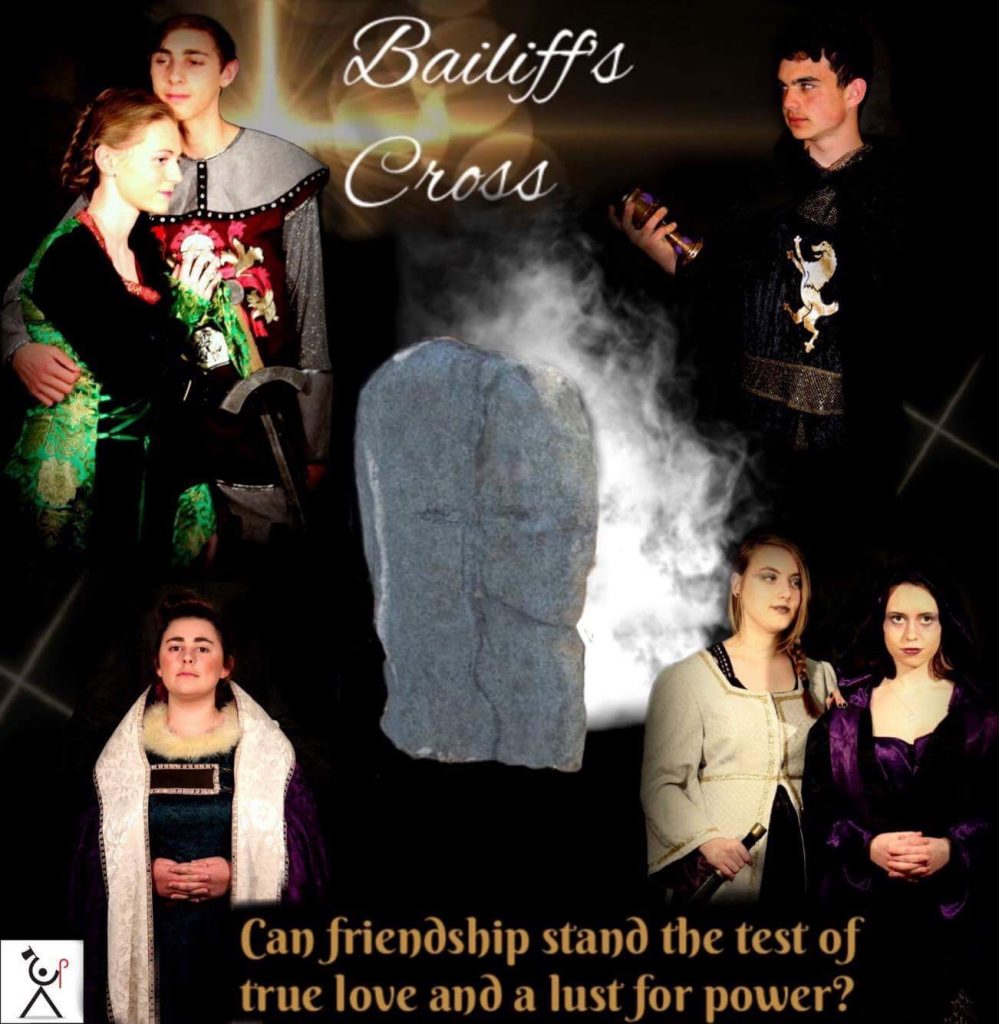 Hagbane's Doom by Nick Perrin
Director: Jenny Falla (GADOC)
Sophie, Josh and Andrew travel through a mysterious archway in their local park and are transported to the magical world of Alamore. They are soon embroiled in a timeless battle between good and evil! Wicked witch Hagbane has stolen the Merestone, which is essential to keeping the forest alive. The children are helped by the forest animals and the rightful ruler of Alamore, Prince Oswain, as they try to defeat Hagbane and her evil army of Grims and Grogs.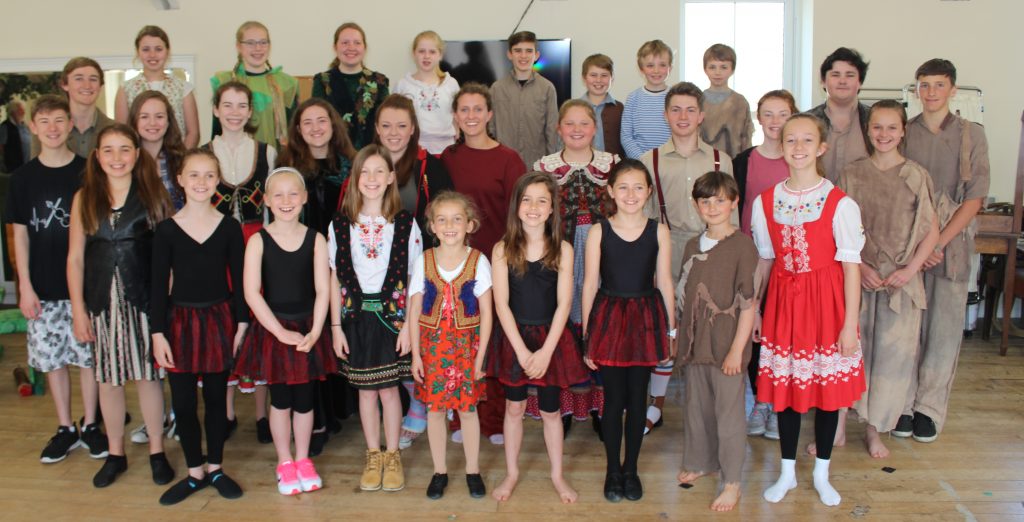 Thursday 25th May 2017
Once Upon a Crime by Flip Kobler and Cindy Marcus
Director: Clare Milner (St Stephen's Players)
Once upon a time in Fairyland there was a pretty golden haired girl called Goldilocks. She was nice to everyone and helped people whenever she could. She was an absolute delight… or was she? This is the story of the Goldilocks being called to Court to answer the allegation that she has burgled the home of the Three Bears. Throughout this hearing the prosecution and defence attorneys will call various fairytale characters to the stand to hear their testimonies, and see re-enactments of their movements on the day in question, in order to unravel this complex and contradictory case. But will she be found guilty or not guilty?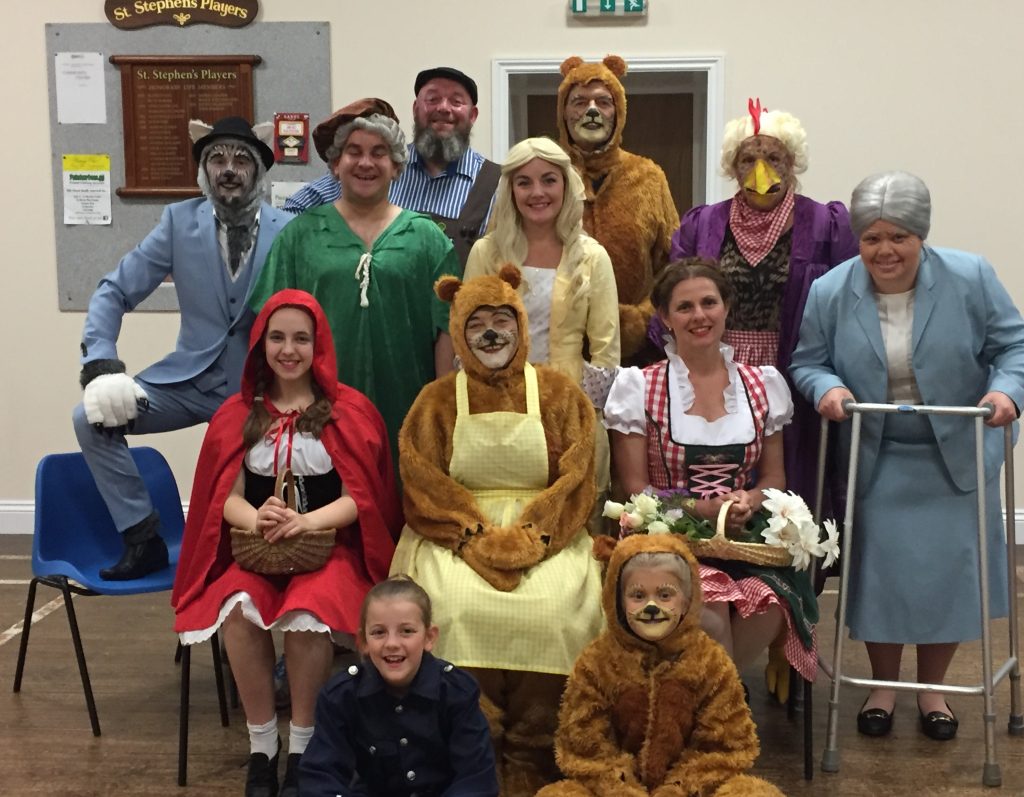 An "i" for an Eye by Ron Blicq
Director: Bob Thompson (GADOC)
The Play is set in the living room of the Karamovsky family and Nan's 'Wing'. From the start we realise there is tension between Karl and his estranged son Alex who is due to come on a visit. Karl expects this means that Alex is coming to apologise, but in fact he is coming to introduce his girlfriend, Lysette, to the family. It transpires that Nan and her granddaughter Kendra know all about her and are quite excited about the visit, but Louise, Karl's wife, is equally in the dark as he is. Will Lysette fit into the family and is there more to her than meets the eye?
Running parallel with this storyline is the relationship between Nan and her granddaughter Kendra who is quite an IT 'wiz'. Nan asks Kendra to help her with a new IT gadget she has won in a raffle with surprising results for all the family.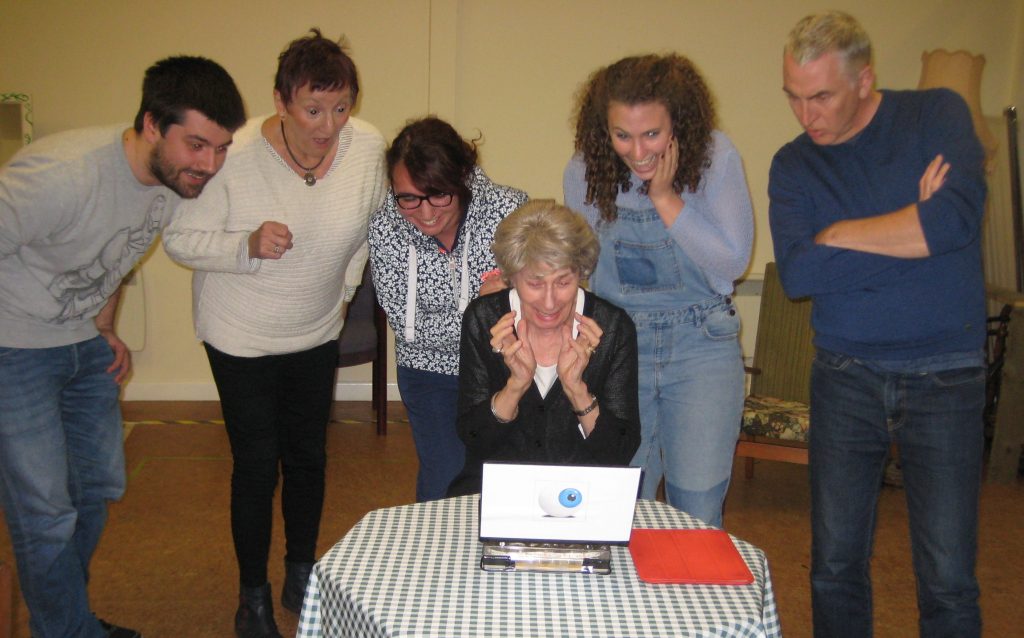 Friday 26th May 2017
Remembrance Day by Tony Layton
Director: Ann Atkinson (GADOC)
Leanora, a strong-willed woman in her 80s has been put into a nursing home by her daughter Ruth, with whom she has a far from cosy relationship. Leanora is terminally ill and is confined to a wheelchair. Her pain is kept under control by regular doses of Morphine, which in turn affect her mental state. The medication is clearly responsible for her irrational behaviour, which puts her at odds with those around her, but in her fading world there is still much lucidity.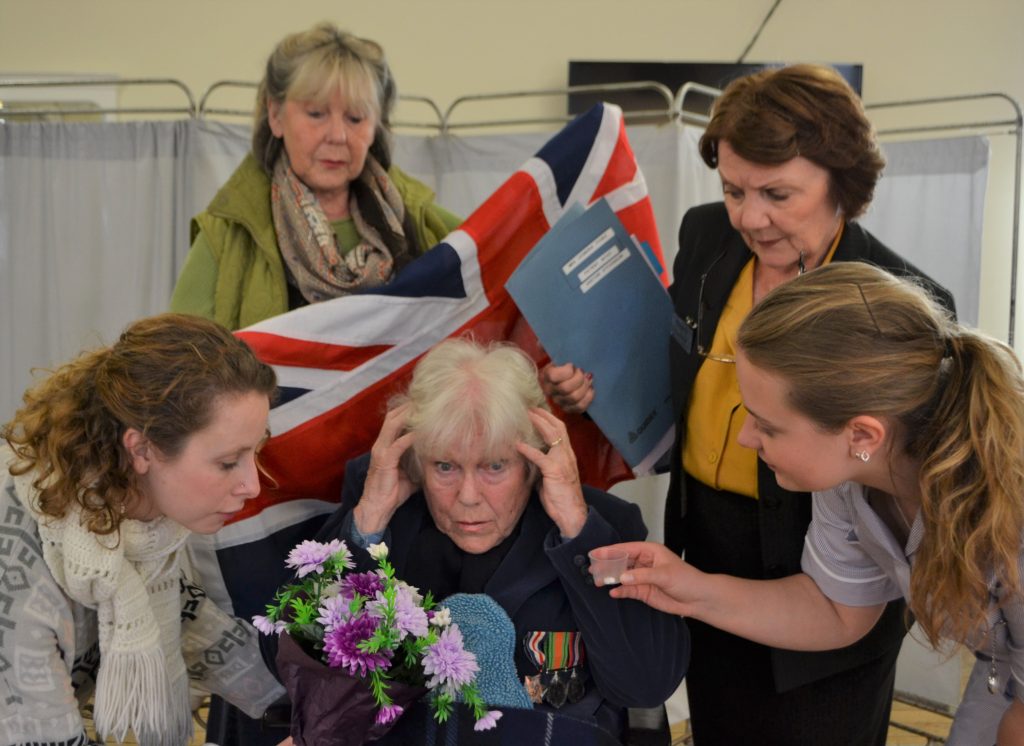 Our adjudicator for 2017 was Ben Humphrey who is a member of the Guild of Drama Adjudicators.
The rules for the 2017 festival can be downloaded from here: – [OAPF Rules 2017]
Trophy Winners for the One Act Play Festival 2017
Joan Machon Award for the most promising performer under 21: Freya Mitchell, Katie Luxon and Josh Ogier, 'Hagbane's Doom'
RGI Trophy for the best performance by an individual under 18 (Any age group cast): Jodie Hicks, 'Hagbane's Doom'
St. Stephen's Players Trophy for the most outstanding performance by an individual in a supporting role: Miriam Botzenhardt, 'An 'i' for an Eye'
The George Foote Memorial Trophy for the best humorous performance: Nicola Reoch Brehaut, 'Being Nice'
The Rollie Wolley Memorial Trophy for the most outstanding performance by an individual: Gillian Jackson, 'An 'i' for an Eye'
The Elaine Ralls Memorial Trophy for a "Magic Moment" from any entry: Lighting the Beacon in 'Bailiff's Cross'
The Lee Trophy for the most effective 'first impression' created by stage setting: 'Once Upon a Crime'
The Redgrave Trophy for the best backstage crew: 'Once Upon a Crime'
The Margaret Moffatt Trophy for the first time director with the highest overall mark: Clare Milner, 'Once Upon a Crime'
Joyce and Cecil Cook Trophy for the Director of the play with the highest overall mark who has never won either the Bucktrout or the Edward Willis Trophies: Fiona Dove, 'Being Nice'
The Edward Willis Trophy for the Director with the highest mark for Direction: Ann Atkinson, 'Remembrance Day'
The Burns Trophy for the original unpublished play with the highest marks: 'Ron Blicq, 'An 'i' for an Eye'
The Hazel Rowe Trophy for the Musical Play with the highest overall marks: 'Hagbane's Doom'
The GADOC Jubilee Trophy for the play with the highest marks with the cast aged under 15: No entries
The F.W.Thomas Memorial Trophy for the play with the highest marks with the cast aged under 21: 'Hagbane's Doom'
The Frankie Billington Trophy for the play with the highest marks with an All-Male cast: No entries

The Gaisford Trophy for the Director aged under 21 with the highest marks for direction: No entries
The Anthony Booth Trophy for the play with the highest marks with an All-Women cast: 'Remembrance Day' directed by Ann Atkinson
The Bucktrout Challenge Trophy for the play with the highest marks: 'Remembrance Day' directed by Ann Atkinson
The Audience Award Salver for the play which receives the most votes from the holders of Season Tickets who have seen all the plays: 'Hagbane's Doom' directed by Jenny Falla